The greatest advantage of this sailing boat - Sun Odyssey 29.2 - is its lifting keel (lifted manually using a sheave system), thanks to which the draught can be as shallow as 75 cm. Captains, skippers and all those in charge of steering a boat will know how useful that can be in terms of reaching coves, straits, anchorages and ports.
This Sun Odyssey 29.2 has a twin rudder and a lifting keel, so in waters with great tidal oscillations it can remain on dry land without ‑ipping over.The twin rudder enable easy and good steering of the boat when it leans over. Although small in size, our boat can accommodate 6 passengers and crew, which makes it ideal for family cruises or small, close-knit teams.
She is available for daily charter as well as for weekly charter. Price ask us for our weekly price packages.
Obligatory Extras:
Transit log: € 100.00 per booking, Tourist tax: € 1.00 per day, Outboard engine: € 50.00 per booking, Spinnaker 75 €/ week
Optional Extras:
Skipper: € 120.00 per day + food
Deck equipment:
E2 winch handles, boat hook, water can, fuel can, bucket with rope, fuel funnel, water hose, stern shower, swimming place on stern, swimming ladder
Safety equipment:
Life-buoy, life-jackets, life-belts, bilge pump (electric and manual), emergency signals, pocket lamp, fog-horn, first aid kit, re-extinguisher, tools and spare parts
Sails & Rigging:
Roller reef Genova, main sail with reefs, spinnaker with equipment
Sail around the Unique Archipelago near the Island of Krk, Croatia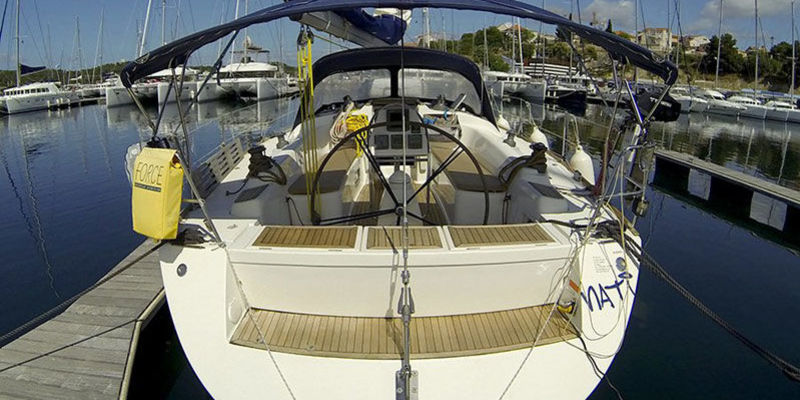 Croatia
There are several different ways of experiencing a unique archipelago but the most beautiful is definitely on the board of a sailing boat feeling the beauty and power of nature and crystal clear sea.