JEANNEAU 54DS
Location: Cartagena, Colombia
Show map
---
Superb design, elegant and spacious sailing yacht
---
---
Seasonal prices & availabilities
Pricelist and availabilities for this boat for the next 18 months
| | | |
| --- | --- | --- |
| 01.05.2018 | | €1208 |
| 02.05.2018 | | €1208 |
| 03.05.2018 | | €1208 |
| 04.05.2018 | | €1208 |
| 05.05.2018 | | €1208 |
| 06.05.2018 | | €1208 |
| 07.05.2018 | | €1208 |
| 08.05.2018 | | €1208 |
| 09.05.2018 | | €1208 |
| 10.05.2018 | | €1208 |
| 11.05.2018 | | €1208 |
| 12.05.2018 | | €1208 |
| 13.05.2018 | | €1208 |
| 14.05.2018 | | €1208 |
| 15.05.2018 | | €1208 |
| 16.05.2018 | | €1208 |
| 17.05.2018 | | €1208 |
| 18.05.2018 | | €1208 |
| 19.05.2018 | | €1208 |
| 20.05.2018 | | €1208 |
| 21.05.2018 | | €1208 |
| 22.05.2018 | | €1208 |
| 23.05.2018 | | €1208 |
| 24.05.2018 | | €1208 |
| 25.05.2018 | | €1208 |
| 26.05.2018 | | €1208 |
| 27.05.2018 | | €1208 |
| 28.05.2018 | | €1208 |
| 29.05.2018 | | €1208 |
| 30.05.2018 | | €1208 |
| 31.05.2018 | | €1208 |
| | | |
| --- | --- | --- |
| 01.06.2018 | | €1208 |
| 02.06.2018 | | €1208 |
| 03.06.2018 | | €1208 |
| 04.06.2018 | | €1208 |
| 05.06.2018 | | €1208 |
| 06.06.2018 | | €1208 |
| 07.06.2018 | | €1208 |
| 08.06.2018 | | €1208 |
| 09.06.2018 | | €1208 |
| 10.06.2018 | | €1208 |
| 11.06.2018 | | €1208 |
| 12.06.2018 | | €1208 |
| 13.06.2018 | | €1208 |
| 14.06.2018 | | €1208 |
| 15.06.2018 | | €1208 |
| 16.06.2018 | | €1208 |
| 17.06.2018 | | €1208 |
| 18.06.2018 | | €1208 |
| 19.06.2018 | | €1208 |
| 20.06.2018 | | €1208 |
| 21.06.2018 | | €1208 |
| 22.06.2018 | | €1208 |
| 23.06.2018 | | €1208 |
| 24.06.2018 | | €1208 |
| 25.06.2018 | | €1208 |
| 26.06.2018 | | €1208 |
| 27.06.2018 | | €1208 |
| 28.06.2018 | | €1208 |
| 29.06.2018 | | €1208 |
| 30.06.2018 | | €1208 |
| | | |
| --- | --- | --- |
| 01.07.2018 | | €1208 |
| 02.07.2018 | | €1208 |
| 03.07.2018 | | €1208 |
| 04.07.2018 | | €1208 |
| 05.07.2018 | | €1208 |
| 06.07.2018 | | €1208 |
| 07.07.2018 | | €1208 |
| 08.07.2018 | | €1208 |
| 09.07.2018 | | €1208 |
| 10.07.2018 | | €1208 |
| 11.07.2018 | | €1208 |
| 12.07.2018 | | €1208 |
| 13.07.2018 | | €1208 |
| 14.07.2018 | | €1208 |
| 15.07.2018 | | €1208 |
| 16.07.2018 | | €1208 |
| 17.07.2018 | | €1208 |
| 18.07.2018 | | €1208 |
| 19.07.2018 | | €1208 |
| 20.07.2018 | | €1208 |
| 21.07.2018 | | €1208 |
| 22.07.2018 | | €1208 |
| 23.07.2018 | | €1208 |
| 24.07.2018 | | €1208 |
| 25.07.2018 | | €1208 |
| 26.07.2018 | | €1208 |
| 27.07.2018 | | €1208 |
| 28.07.2018 | | €1208 |
| 29.07.2018 | | €1208 |
| 30.07.2018 | | €1208 |
| 31.07.2018 | | €1208 |
| | | |
| --- | --- | --- |
| 01.08.2018 | | €1208 |
| 02.08.2018 | | €1208 |
| 03.08.2018 | | €1208 |
| 04.08.2018 | | €1208 |
| 05.08.2018 | | €1208 |
| 06.08.2018 | | €1208 |
| 07.08.2018 | | €1208 |
| 08.08.2018 | | €1208 |
| 09.08.2018 | | €1208 |
| 10.08.2018 | | €1208 |
| 11.08.2018 | | €1208 |
| 12.08.2018 | | €1208 |
| 13.08.2018 | | €1208 |
| 14.08.2018 | | €1208 |
| 15.08.2018 | | €1208 |
| 16.08.2018 | | €1208 |
| 17.08.2018 | | €1208 |
| 18.08.2018 | | €1208 |
| 19.08.2018 | | €1208 |
| 20.08.2018 | | €1208 |
| 21.08.2018 | | €1208 |
| 22.08.2018 | | €1208 |
| 23.08.2018 | | €1208 |
| 24.08.2018 | | €1208 |
| 25.08.2018 | | €1208 |
| 26.08.2018 | | €1208 |
| 27.08.2018 | | €1208 |
| 28.08.2018 | | €1208 |
| 29.08.2018 | | €1208 |
| 30.08.2018 | | €1208 |
| 31.08.2018 | | €1208 |
| | | |
| --- | --- | --- |
| 01.09.2018 | | €1208 |
| 02.09.2018 | | €1208 |
| 03.09.2018 | | €1208 |
| 04.09.2018 | | €1208 |
| 05.09.2018 | | €1208 |
| 06.09.2018 | | €1208 |
| 07.09.2018 | | €1208 |
| 08.09.2018 | | €1208 |
| 09.09.2018 | | €1208 |
| 10.09.2018 | | €1208 |
| 11.09.2018 | | €1208 |
| 12.09.2018 | | €1208 |
| 13.09.2018 | | €1208 |
| 14.09.2018 | | €1208 |
| 15.09.2018 | | €1208 |
| 16.09.2018 | | €1208 |
| 17.09.2018 | | €1208 |
| 18.09.2018 | | €1208 |
| 19.09.2018 | | €1208 |
| 20.09.2018 | | €1208 |
| 21.09.2018 | | €1208 |
| 22.09.2018 | | €1208 |
| 23.09.2018 | | €1208 |
| 24.09.2018 | | €1208 |
| 25.09.2018 | | €1208 |
| 26.09.2018 | | €1208 |
| 27.09.2018 | | €1208 |
| 28.09.2018 | | €1208 |
| 29.09.2018 | | €1208 |
| 30.09.2018 | | €1208 |
| | | |
| --- | --- | --- |
| 01.10.2018 | | €1208 |
| 02.10.2018 | | €1208 |
| 03.10.2018 | | €1208 |
| 04.10.2018 | | €1208 |
| 05.10.2018 | | €1208 |
| 06.10.2018 | | €1208 |
| 07.10.2018 | | €1208 |
| 08.10.2018 | | €1208 |
| 09.10.2018 | | €1208 |
| 10.10.2018 | | €1208 |
| 11.10.2018 | | €1208 |
| 12.10.2018 | | €1208 |
| 13.10.2018 | | €1208 |
| 14.10.2018 | | €1208 |
| 15.10.2018 | | €1208 |
| 16.10.2018 | | €1208 |
| 17.10.2018 | | €1208 |
| 18.10.2018 | | €1208 |
| 19.10.2018 | | €1208 |
| 20.10.2018 | | €1208 |
| 21.10.2018 | | €1208 |
| 22.10.2018 | | €1208 |
| 23.10.2018 | | €1208 |
| 24.10.2018 | | €1208 |
| 25.10.2018 | | €1208 |
| 26.10.2018 | | €1208 |
| 27.10.2018 | | €1208 |
| 28.10.2018 | | €1208 |
| 29.10.2018 | | €1208 |
| 30.10.2018 | | €1208 |
| 31.10.2018 | | €1208 |
| | | |
| --- | --- | --- |
| 01.11.2018 | | €1208 |
| 02.11.2018 | | €1208 |
| 03.11.2018 | | €1208 |
| 04.11.2018 | | €1208 |
| 05.11.2018 | | €1208 |
| 06.11.2018 | | €1208 |
| 07.11.2018 | | €1208 |
| 08.11.2018 | | €1208 |
| 09.11.2018 | | €1208 |
| 10.11.2018 | | €1208 |
| 11.11.2018 | | €1208 |
| 12.11.2018 | | €1208 |
| 13.11.2018 | | €1208 |
| 14.11.2018 | | €1208 |
| 15.11.2018 | | €1208 |
| 16.11.2018 | | €1208 |
| 17.11.2018 | | €1208 |
| 18.11.2018 | | €1208 |
| 19.11.2018 | | €1208 |
| 20.11.2018 | | €1208 |
| 21.11.2018 | | €1208 |
| 22.11.2018 | | €1208 |
| 23.11.2018 | | €1208 |
| 24.11.2018 | | €1208 |
| 25.11.2018 | | €1208 |
| 26.11.2018 | | €1208 |
| 27.11.2018 | | €1208 |
| 28.11.2018 | | €1208 |
| 29.11.2018 | | €1208 |
| 30.11.2018 | | €1208 |
| | | |
| --- | --- | --- |
| 01.12.2018 | | €1208 |
| 02.12.2018 | | €1208 |
| 03.12.2018 | | €1208 |
| 04.12.2018 | | €1208 |
| 05.12.2018 | | €1208 |
| 06.12.2018 | | €1208 |
| 07.12.2018 | | €1208 |
| 08.12.2018 | | €1208 |
| 09.12.2018 | | €1208 |
| 10.12.2018 | | €1208 |
| 11.12.2018 | | €1208 |
| 12.12.2018 | | €1208 |
| 13.12.2018 | | €1208 |
| 14.12.2018 | | €1208 |
| 15.12.2018 | | €1208 |
| 16.12.2018 | | €1208 |
| 17.12.2018 | | €1208 |
| 18.12.2018 | | €1208 |
| 19.12.2018 | | €1208 |
| 20.12.2018 | | €1208 |
| 21.12.2018 | | €1208 |
| 22.12.2018 | | €1208 |
| 23.12.2018 | | €1208 |
| 24.12.2018 | | €1208 |
| 25.12.2018 | | €1208 |
| 26.12.2018 | | €1208 |
| 27.12.2018 | | €1208 |
| 28.12.2018 | | €1208 |
| 29.12.2018 | | €1208 |
| 30.12.2018 | | €1208 |
| 31.12.2018 | | €1208 |
| | | |
| --- | --- | --- |
| 01.01.2019 | | €1208 |
| 02.01.2019 | | €1208 |
| 03.01.2019 | | €1208 |
| 04.01.2019 | | €1208 |
| 05.01.2019 | | €1208 |
| 06.01.2019 | | €1208 |
| 07.01.2019 | | €1208 |
| 08.01.2019 | | €1208 |
| 09.01.2019 | | €1208 |
| 10.01.2019 | | €1208 |
| 11.01.2019 | | €1208 |
| 12.01.2019 | | €1208 |
| 13.01.2019 | | €1208 |
| 14.01.2019 | | €1208 |
| 15.01.2019 | | €1208 |
| 16.01.2019 | | €1208 |
| 17.01.2019 | | €1208 |
| 18.01.2019 | | €1208 |
| 19.01.2019 | | €1208 |
| 20.01.2019 | | €1208 |
| 21.01.2019 | | €1208 |
| 22.01.2019 | | €1208 |
| 23.01.2019 | | €1208 |
| 24.01.2019 | | €1208 |
| 25.01.2019 | | €1208 |
| 26.01.2019 | | €1208 |
| 27.01.2019 | | €1208 |
| 28.01.2019 | | €1208 |
| 29.01.2019 | | €1208 |
| 30.01.2019 | | €1208 |
| 31.01.2019 | | €1208 |
| | | |
| --- | --- | --- |
| 01.02.2019 | | €1208 |
| 02.02.2019 | | €1208 |
| 03.02.2019 | | €1208 |
| 04.02.2019 | | €1208 |
| 05.02.2019 | | €1208 |
| 06.02.2019 | | €1208 |
| 07.02.2019 | | €1208 |
| 08.02.2019 | | €1208 |
| 09.02.2019 | | €1208 |
| 10.02.2019 | | €1208 |
| 11.02.2019 | | €1208 |
| 12.02.2019 | | €1208 |
| 13.02.2019 | | €1208 |
| 14.02.2019 | | €1208 |
| 15.02.2019 | | €1208 |
| 16.02.2019 | | €1208 |
| 17.02.2019 | | €1208 |
| 18.02.2019 | | €1208 |
| 19.02.2019 | | €1208 |
| 20.02.2019 | | €1208 |
| 21.02.2019 | | €1208 |
| 22.02.2019 | | €1208 |
| 23.02.2019 | | €1208 |
| 24.02.2019 | | €1208 |
| 25.02.2019 | | €1208 |
| 26.02.2019 | | €1208 |
| 27.02.2019 | | €1208 |
| 28.02.2019 | | €1208 |
| | | |
| --- | --- | --- |
| 01.03.2019 | | €1208 |
| 02.03.2019 | | €1208 |
| 03.03.2019 | | €1208 |
| 04.03.2019 | | €1208 |
| 05.03.2019 | | €1208 |
| 06.03.2019 | | €1208 |
| 07.03.2019 | | €1208 |
| 08.03.2019 | | €1208 |
| 09.03.2019 | | €1208 |
| 10.03.2019 | | €1208 |
| 11.03.2019 | | €1208 |
| 12.03.2019 | | €1208 |
| 13.03.2019 | | €1208 |
| 14.03.2019 | | €1208 |
| 15.03.2019 | | €1208 |
| 16.03.2019 | | €1208 |
| 17.03.2019 | | €1208 |
| 18.03.2019 | | €1208 |
| 19.03.2019 | | €1208 |
| 20.03.2019 | | €1208 |
| 21.03.2019 | | €1208 |
| 22.03.2019 | | €1208 |
| 23.03.2019 | | €1208 |
| 24.03.2019 | | €1208 |
| 25.03.2019 | | €1208 |
| 26.03.2019 | | €1208 |
| 27.03.2019 | | €1208 |
| 28.03.2019 | | €1208 |
| 29.03.2019 | | €1208 |
| 30.03.2019 | | €1208 |
| 31.03.2019 | | €1208 |
| | | |
| --- | --- | --- |
| 01.04.2019 | | €1208 |
| 02.04.2019 | | €1208 |
| 03.04.2019 | | €1208 |
| 04.04.2019 | | €1208 |
| 05.04.2019 | | €1208 |
| 06.04.2019 | | €1208 |
| 07.04.2019 | | €1208 |
| 08.04.2019 | | €1208 |
| 09.04.2019 | | €1208 |
| 10.04.2019 | | €1208 |
| 11.04.2019 | | €1208 |
| 12.04.2019 | | €1208 |
| 13.04.2019 | | €1208 |
| 14.04.2019 | | €1208 |
| 15.04.2019 | | €1208 |
| 16.04.2019 | | €1208 |
| 17.04.2019 | | €1208 |
| 18.04.2019 | | €1208 |
| 19.04.2019 | | €1208 |
| 20.04.2019 | | €1208 |
| 21.04.2019 | | €1208 |
| 22.04.2019 | | €1208 |
| 23.04.2019 | | €1208 |
| 24.04.2019 | | €1208 |
| 25.04.2019 | | €1208 |
| 26.04.2019 | | €1208 |
| 27.04.2019 | | €1208 |
| 28.04.2019 | | €1208 |
| 29.04.2019 | | €1208 |
| 30.04.2019 | | €1208 |
| | | |
| --- | --- | --- |
| 01.05.2019 | | €1208 |
| 02.05.2019 | | €1208 |
| 03.05.2019 | | €1208 |
| 04.05.2019 | | €1208 |
| 05.05.2019 | | €1208 |
| 06.05.2019 | | €1208 |
| 07.05.2019 | | €1208 |
| 08.05.2019 | | €1208 |
| 09.05.2019 | | €1208 |
| 10.05.2019 | | €1208 |
| 11.05.2019 | | €1208 |
| 12.05.2019 | | €1208 |
| 13.05.2019 | | €1208 |
| 14.05.2019 | | €1208 |
| 15.05.2019 | | €1208 |
| 16.05.2019 | | €1208 |
| 17.05.2019 | | €1208 |
| 18.05.2019 | | €1208 |
| 19.05.2019 | | €1208 |
| 20.05.2019 | | €1208 |
| 21.05.2019 | | €1208 |
| 22.05.2019 | | €1208 |
| 23.05.2019 | | €1208 |
| 24.05.2019 | | €1208 |
| 25.05.2019 | | €1208 |
| 26.05.2019 | | €1208 |
| 27.05.2019 | | €1208 |
| 28.05.2019 | | €1208 |
| 29.05.2019 | | €1208 |
| 30.05.2019 | | €1208 |
| 31.05.2019 | | €1208 |
| | | |
| --- | --- | --- |
| 01.06.2019 | | €1208 |
| 02.06.2019 | | €1208 |
| 03.06.2019 | | €1208 |
| 04.06.2019 | | €1208 |
| 05.06.2019 | | €1208 |
| 06.06.2019 | | €1208 |
| 07.06.2019 | | €1208 |
| 08.06.2019 | | €1208 |
| 09.06.2019 | | €1208 |
| 10.06.2019 | | €1208 |
| 11.06.2019 | | €1208 |
| 12.06.2019 | | €1208 |
| 13.06.2019 | | €1208 |
| 14.06.2019 | | €1208 |
| 15.06.2019 | | €1208 |
| 16.06.2019 | | €1208 |
| 17.06.2019 | | €1208 |
| 18.06.2019 | | €1208 |
| 19.06.2019 | | €1208 |
| 20.06.2019 | | €1208 |
| 21.06.2019 | | €1208 |
| 22.06.2019 | | €1208 |
| 23.06.2019 | | €1208 |
| 24.06.2019 | | €1208 |
| 25.06.2019 | | €1208 |
| 26.06.2019 | | €1208 |
| 27.06.2019 | | €1208 |
| 28.06.2019 | | €1208 |
| 29.06.2019 | | €1208 |
| 30.06.2019 | | €1208 |
| | | |
| --- | --- | --- |
| 01.07.2019 | | €1208 |
| 02.07.2019 | | €1208 |
| 03.07.2019 | | €1208 |
| 04.07.2019 | | €1208 |
| 05.07.2019 | | €1208 |
| 06.07.2019 | | €1208 |
| 07.07.2019 | | €1208 |
| 08.07.2019 | | €1208 |
| 09.07.2019 | | €1208 |
| 10.07.2019 | | €1208 |
| 11.07.2019 | | €1208 |
| 12.07.2019 | | €1208 |
| 13.07.2019 | | €1208 |
| 14.07.2019 | | €1208 |
| 15.07.2019 | | €1208 |
| 16.07.2019 | | €1208 |
| 17.07.2019 | | €1208 |
| 18.07.2019 | | €1208 |
| 19.07.2019 | | €1208 |
| 20.07.2019 | | €1208 |
| 21.07.2019 | | €1208 |
| 22.07.2019 | | €1208 |
| 23.07.2019 | | €1208 |
| 24.07.2019 | | €1208 |
| 25.07.2019 | | €1208 |
| 26.07.2019 | | €1208 |
| 27.07.2019 | | €1208 |
| 28.07.2019 | | €1208 |
| 29.07.2019 | | €1208 |
| 30.07.2019 | | €1208 |
| 31.07.2019 | | €1208 |
| | | |
| --- | --- | --- |
| 01.08.2019 | | €1208 |
| 02.08.2019 | | €1208 |
| 03.08.2019 | | €1208 |
| 04.08.2019 | | €1208 |
| 05.08.2019 | | €1208 |
| 06.08.2019 | | €1208 |
| 07.08.2019 | | €1208 |
| 08.08.2019 | | €1208 |
| 09.08.2019 | | €1208 |
| 10.08.2019 | | €1208 |
| 11.08.2019 | | €1208 |
| 12.08.2019 | | €1208 |
| 13.08.2019 | | €1208 |
| 14.08.2019 | | €1208 |
| 15.08.2019 | | €1208 |
| 16.08.2019 | | €1208 |
| 17.08.2019 | | €1208 |
| 18.08.2019 | | €1208 |
| 19.08.2019 | | €1208 |
| 20.08.2019 | | €1208 |
| 21.08.2019 | | €1208 |
| 22.08.2019 | | €1208 |
| 23.08.2019 | | €1208 |
| 24.08.2019 | | €1208 |
| 25.08.2019 | | €1208 |
| 26.08.2019 | | €1208 |
| 27.08.2019 | | €1208 |
| 28.08.2019 | | €1208 |
| 29.08.2019 | | €1208 |
| 30.08.2019 | | €1208 |
| 31.08.2019 | | €1208 |
| | | |
| --- | --- | --- |
| 01.09.2019 | | €1208 |
| 02.09.2019 | | €1208 |
| 03.09.2019 | | €1208 |
| 04.09.2019 | | €1208 |
| 05.09.2019 | | €1208 |
| 06.09.2019 | | €1208 |
| 07.09.2019 | | €1208 |
| 08.09.2019 | | €1208 |
| 09.09.2019 | | €1208 |
| 10.09.2019 | | €1208 |
| 11.09.2019 | | €1208 |
| 12.09.2019 | | €1208 |
| 13.09.2019 | | €1208 |
| 14.09.2019 | | €1208 |
| 15.09.2019 | | €1208 |
| 16.09.2019 | | €1208 |
| 17.09.2019 | | €1208 |
| 18.09.2019 | | €1208 |
| 19.09.2019 | | €1208 |
| 20.09.2019 | | €1208 |
| 21.09.2019 | | €1208 |
| 22.09.2019 | | €1208 |
| 23.09.2019 | | €1208 |
| 24.09.2019 | | €1208 |
| 25.09.2019 | | €1208 |
| 26.09.2019 | | €1208 |
| 27.09.2019 | | €1208 |
| 28.09.2019 | | €1208 |
| 29.09.2019 | | €1208 |
| 30.09.2019 | | €1208 |
| | | |
| --- | --- | --- |
| 01.10.2019 | | €1208 |
| 02.10.2019 | | €1208 |
| 03.10.2019 | | €1208 |
| 04.10.2019 | | €1208 |
| 05.10.2019 | | €1208 |
| 06.10.2019 | | €1208 |
| 07.10.2019 | | €1208 |
| 08.10.2019 | | €1208 |
| 09.10.2019 | | €1208 |
| 10.10.2019 | | €1208 |
| 11.10.2019 | | €1208 |
| 12.10.2019 | | €1208 |
| 13.10.2019 | | €1208 |
| 14.10.2019 | | €1208 |
| 15.10.2019 | | €1208 |
| 16.10.2019 | | €1208 |
| 17.10.2019 | | €1208 |
| 18.10.2019 | | €1208 |
| 19.10.2019 | | €1208 |
| 20.10.2019 | | €1208 |
| 21.10.2019 | | €1208 |
| 22.10.2019 | | €1208 |
| 23.10.2019 | | €1208 |
| 24.10.2019 | | €1208 |
| 25.10.2019 | | €1208 |
| 26.10.2019 | | €1208 |
| 27.10.2019 | | €1208 |
| 28.10.2019 | | €1208 |
| 29.10.2019 | | €1208 |
| 30.10.2019 | | €1208 |
| 31.10.2019 | | €1208 |
Boat specifications
Type
Sailing Yacht
Number of people
Power
105
Min rental period:
half day
---
Boat features
Air Conditioning
Anchor
Autopilot
Bimini
CD Player
Dinghy
Fridge
Kitchen amenities
Navigation system (GPS)
Radio
Shower
Table
VHF
WC
---
Cancellation policy
Strict (50% refund up until 1 week prior to arrival, except Boataffair's Service Fee)
The Service Fee payable to Boataffair is non-refundable.
A reservation is officially cancelled when the Renter clicks the cancellation button on the cancellation confirmation page.
For a 50% refund, cancellation must be made seven full days prior to the Boat's local Check-in time (or 9:00 AM if not specified) on the day of Check-in, otherwise no refund. For example, if Check-in is on Friday, cancel by Friday of the previous week before Check-in time.
If the Renter cancels less than 7 days in advance, there is no refund.
If the Renter arrives and decides to leave early, there is no refund.
---
Boat insurance
UP TO EUR 10,000 ON ACCIDENTS
---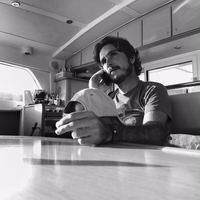 Member since Sep, 2017
Verified by email | phone
Languages: English, Spanish
Responds within an hour
---
I am an entusiastic explorer. I love to sail a look for extraordinary places. Out of these jorneys I have developed several routes to offer my clientes with wonderful islands, mongrove lagoons, jungle on the beach and much more!!