Paamul Bay tour description. Duration about 4 hours.
We depart from the Puerto Aventuras Marina and cruise north up the Riviera Maya coast, possibly set sail (if weather permits) and sail about an hour up to Paamul Bay. If you enjoy fishing, you can fish from the boat if you'd like and anything you catch we can prepare for you onboard. Once our destination, you can swim and snorkel with colorful tropical fish in calm, clear water of Paamul Bay.
During the tour, the onboard crew serves you drinks and snacks. For those who like margaritas, you'll surely want to try our signature, refreshingly cold margarita! While you're enjoying the water activities, the onboard crew is preparing your delicious shrimp and fish ceviche to serve you when back onboard.
On this tour you can also go onto the beach at Paamul Bay and enjoy some time soaking in the sun if you prefer. After approximately 2 hours of snorkeling, swimming or just relaxing on the yacht or the beach, you'll enjoying ceviche, cocktails and refreshments as we slowly make our way back south to the marina.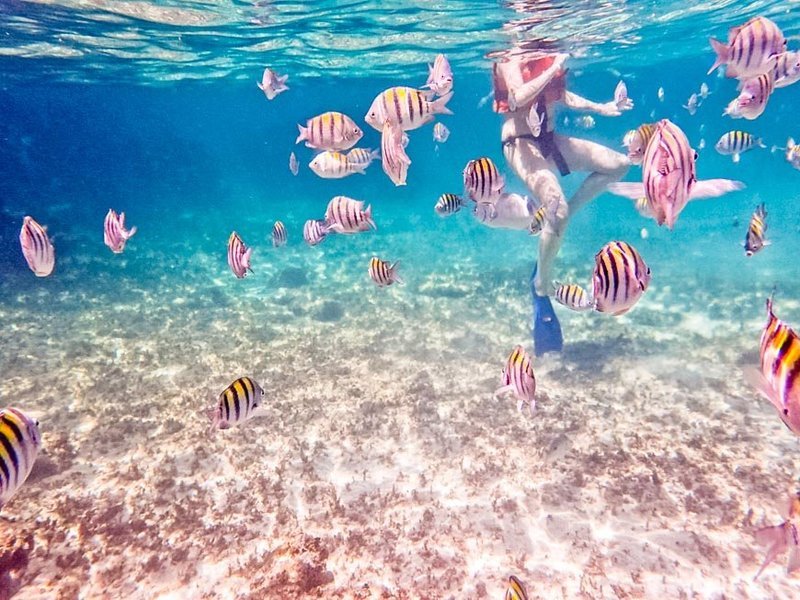 Towels, snorkel, and fishing gear are all included on the tour.
Our open bar includes
We often have people asking us if there is enough alcohol in our Open Bar and we always respond with a clear YES
There is plenty of beer and liquor for even the most thirsty groups.
We also have plenty of bottled water, mineral water and soft drinks for people that do not wish to drink alcohol.
Beers - Tecate Light or Corona Extra
Vodka - Smirnoff
Rum - Bacardi
Whiskey - VAT 69 or Black & White
Tequila - Jose Cuervo
Coca-Cola, Coca-Cola light &Sprite
Orange, pineapple & cranberry juice
Bottled water & mineral water
If you have some special requests in regards to the open bar please do let us know and we will try to get the brands you would like.
If you would like premium brands please have a look at our premium bar
Pricing (in USD):
36' PDQ Catamaran: USD 1'100