Here you may snorkel and enjoy the amazing view of the ruins, while the onboard bartender serves refreshments and drinks from our VIP bar and your personal chef prepares the first part of your chosen meal from our special VIP menu.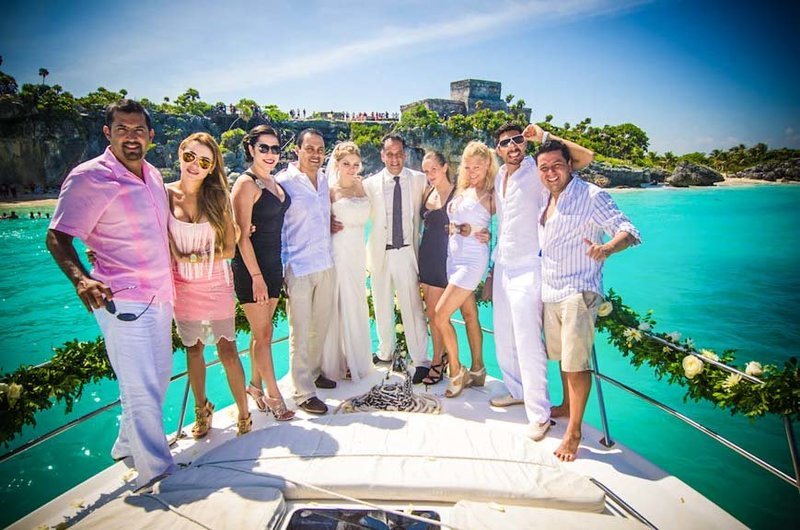 After about two hours, we will cruise north and enter the secluded Chac Hal Al inlet, with its chest-deep turquoise water. Here you may enjoy a refreshment, beer or cocktail prepared by your onboard bartender or soak and relax in the beautiful tranquil water. Meanwhile, your personal chef will prepare your chosen meal, which you may enjoy in the flybridge lounge area with your choice of wine, beer, and cocktails from the VIP premium bar.
If you enjoy fishing this is the perfect tour for you! Your catch will be prepared onboard with our chef's secret family sauce.
You can also enjoy one of the 5 bottles of Veuve Clicquot or Möet & Chandon champagne included on this VIP tour.
Towels, snorkel, and fishing gear are all included on the tour.
For lunch/dinner you may choose between the following menus:
Japanese fusion
Italian fusion
International
El Mexicano
For more details on the menus please see the Chefs Menu tab above.
Our PREMIUM bar includes
Below is the high-end premium brands which are included in our premium bar upgrade.
Don Julio Tequila Blanco
Don Julio Tequila añejo
Grey Goose Vodka
Black Label Whiskey
Matusalem Gran Reserva 18 years Rum
Red & white wine
Beers - Tecate Light or Corona Extra
Coca-Cola, Coca-Cola light &Sprite
Orange, pineapple & cranberry juice
Bottled water & mineral water
If you have some special requests in regards to the Premium bar please do let us know and we will try to get the brands you would like.
Pricing (in USD):
37' Four Winns Mod. Vista Yacht: USD 4'000
42' Sea Ray 400 Sedan Yacht: USD 4'800
36' PDQ Catamaran: USD 4'000
44' Lagoon Catamaran: USD 7'000