We will explain what Boataffair is and how it works, the hard work and values behind it, in order to make them understand that it has something unique compared to the rivals. At its core, quality and trust set Boataffair apart and places the company in an exclusive and valuable niche.
The second we walked inside the show I was immediately overwhelmed by its size. There were 17 pavilions with an infinite number of stands. There were companies coming from all sorts of industry sectors, ranging from clothing to diving, boat rental and yacht manufacturing. It was amazing to see all of these companies in the same place, with all of their representatives really busy, but very happy and available to talk business at any time.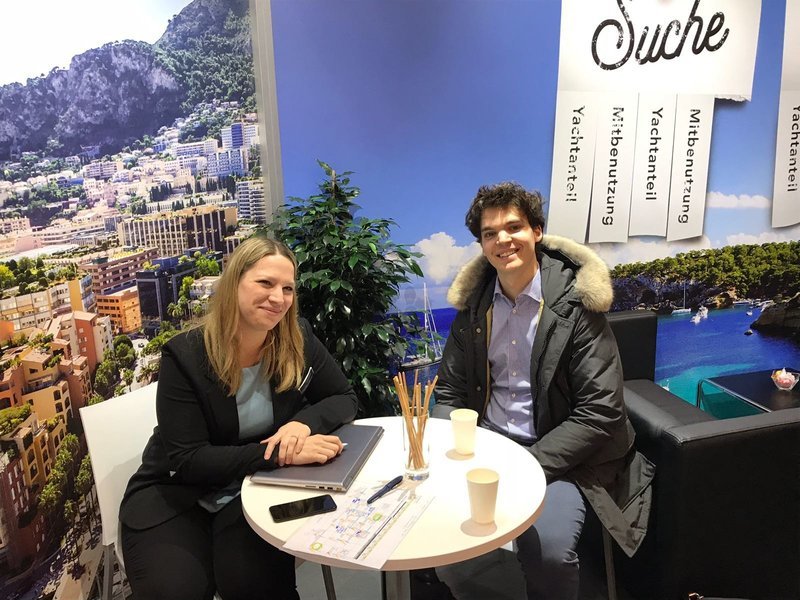 The first thing we did was, of course, lunch. It was a good time for us to discuss the game plan for the afternoon. What was clear was that, despite having prepared a detailed research of the companies there, we could not talk to all of them.
Our strategy had to be changed to allow for us to make the most out of our trip. We shrunk our list and focused only on those companies that we were certain could add value to our platform, either through a collaboration in the listing of the boat or through other activities to promote Boataffair. Family owned charter companies, high-end marinas, and boating publications were amongst our most preferred targets, and through our well-developed research, we knew exactly where to find them.

Many companies were sceptical at first, thinking that Boataffair's services would have been expensive or not trustworthy, but this changed immediately once we started to explain how the company operates.
Once they understood the potential benefits that working with Boataffair would bring they immediately changed their minds. They were initially attracted by the services we could offer, especially the listings for free that they could benefit from. When they heard that Boataffair had close ties with a lot of English and Swiss customers, people really started to be attracted and wanted to list their boats.
They saw the hard work and potential behind the idea and they were very happy to talk to us and work with Boataffair in the future. The trip was a success and we got to talk to a lot of interesting stakeholders working in the boating sector. They really understood and appreciated what Boataffair does and how it operates.
Only on the last afternoon, we decided to take some time to visit the section dedicated to yachts and superyachts. The size of these boats is incredible, especially when seen out of the water. All of the major brands were there, like Ferretti, Riva, Sanlorenzo, Princess and Sunseeker, and we had the possibility to actually go on board one of the boats.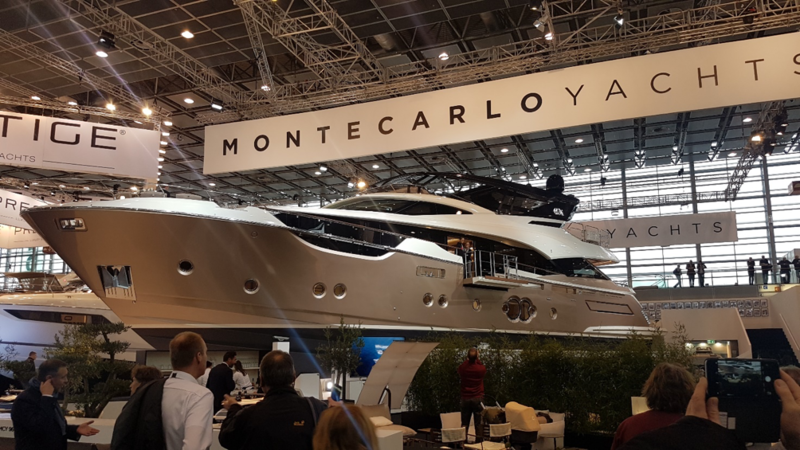 In fact, thanks to the kindness of Mr. Evros Symeonides, CEO of Sunseeker Cyprus and long-time friend of Adrian Walker, we were able to jump on board the new Sunseeker 95' Yacht and have a tour.
The superyacht is fantastic, with beautiful woods and incredible spaces. The owners' cabin is on two floors, with a spacious toilet under the bedroom that allows to maximise the space in the room. The flybridge has a large sunbathing area and the saloon had enough space to comfortably host all of the guests. It was a really amazing experience on a lovely superyacht.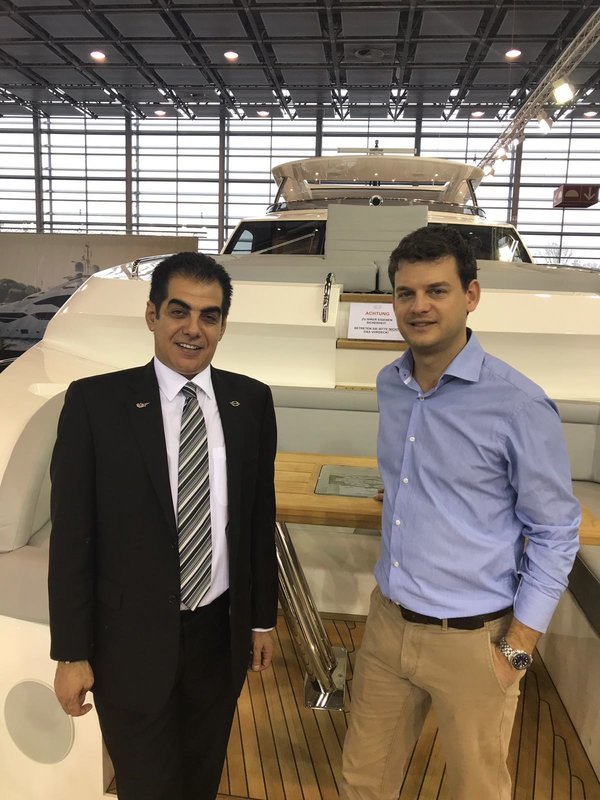 The visit to the Boot Düsseldorf 2018 was not only a great success for Boataffair, but it was an incredible experience that allowed me to grow and learn so much about this fantastic industry.
I had the privilege of meeting a lot of professional, hard-working people that have dedicated their lives to allowing other people to enjoy their downtime on a well-maintained boat.
We have expanded our network and actually got to know them in person, which is something very special.
Events like these are very important for a young company like Boataffair, as they allow to raise awareness and expand the company's network. We were able to do this perfectly thanks to our versatility and hard work, and the new contacts made will ensure a lot of growth for the company in the future.