Home to 2.1 million people living across the seven unique and distinct islands, the Canary Islands attract visitors from all across the world. A variety of landscapes make up the islands from lush pine forests in Gran Canaria to the waterfalls of La Palma and the rocky lands of Lanzarote meaning that each island has its own distinct culture and 'flavour'. Graced with a year round warm and sunny climate that makes the perfect getaway to rent a boat in the Canary Islands and explore. Whatsmore, due to their predictably great weather and stable climates, the Canary Islands make the perfect destination for those looking to practice watersports and island hop. We spoke with our local boat owners who shared their expert local knowledge on what to do on each island.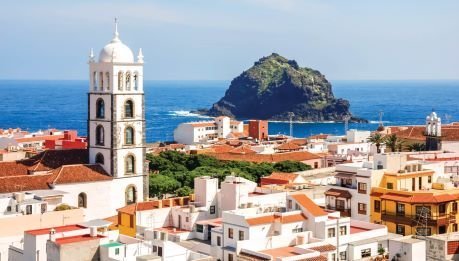 El Hierro - Dive into adventure
The Canary Islands truly are a diver's paradise. Crystal clear warm waters across the islands are home to dazzling array of species but the true diving gem of the Canaries is El Hierro. El Hierro, the smallest and the furthest south of the Canaries, is home to over 40 diving sites, in particular, the marine reserve next to the fishing harbour of La Restinga is considered to be the island's top spot full of steep drop offs, underwater cliffs, shelves and volcanic features.
Gran Canaria - A beach lovers delight
With over 60km of beaches spread across 235km of coastline Gran Canaria is ideal for those looking to leave behind the world and enjoy the delights of the beach. Pine forests meet volcanic landscapes in this diverse island and for those who want to get back to civilisation the capital city is full of fabulous shops and local restaurants. The famous sand dunes of Maspalomas, sculpted into different shapes each day by the wind, the remote beach of Montana de arena (literally the sand mountain) and the fabulous San Agustin dotted with local restaurants serving freshly caught seafood are all must visit beaches.
La Palma - reach for the stars
Known as 'La Isla Bonita' or the beautiful island due to its incredible landscapes, impressive volcanoes, rich forests and clear skies, La Palma is a spectacular destination for nature lovers. Hike through prehistoric forests, bathe under waterfalls or simply moore in the capital Santa Cruz de la Palma and stroll through the narrow cobbled streets lined with houses with wooden balconies. Strict anti-pollution laws make La Palma one of the world's best destinations to stargaze, so drop anchor, lay back and enjoy the celestial delight that awaits you.
La Gomera - A whistle-stop tour
Home to an ancient whistling language, the prehistoric forests of Garajoney National Parks, dramatic cliff faces and clear, crystalline waters La Gomera is often seen as one of the most unique of the Canary Islands. Criss-crossed with hiking trails, the rugged volcanic terrain makes La Gomera the ideal destination for hiking and exploring nature. Explore the untouched and unspoilt coastline at your leisure and don't forget to visit the historic capital of San Sebastian de la Gomera where Coloimbus stayed on his voyage of discovery to America.
Tenerife - Endless activities
Tenerife is home to four marinas making it easy to find a suitable stop to refresh and refuel before hopping to the other Canary Islands. However, be warned the local sights and delights of Tenerife make it difficult to leave! Eight golf courses, the Teide National Park and the beautiful colonial architecture of La Laguna means that active travellers will be at home. As with all the Canary Islands, clear waters and stunning marine life awaits. What makes Tenerife even more special? Whale Watching just off the southern coast of Tenerife is a once in a lifetime experience as you share the ocean with these beautiful creatures.
Fuerteventura- A Slice of paradise
Did you know that Fuerteventura is known for its cheese? The island's Majorero cheese is protected under the European Union's Protected Denomination of Origin meaning that to be an authentic Majorero cheese is has to be produced on the island. Not only is Fuerteventura a cheese lover's paradise, you can visit the island's many cheeseries to sample the goods directly, but it has over 160km of pristine white sandy beaches and beautiful emerald clear waters. Kite and wind surfers must visit the island as it has the best winds of all of the Canaries making it a haven for, not only relaxing, but for water sports too.
Lanzarote - Transport yourself to another world
The volcanic lands of Lanzarote have an otherworldly quality that transports and charms you. A sports lover's dream the island is perfect for cycling, running and, of course, water sports. No trip to Lanzarote would be complete without stopping off at Arrieta, a local, authentic fishing village that has escaped modernity and transports you back in time. Moore just off the coast and enjoy a waterside dinner as the sun elegantly dips below the horizon. Travel to the untouched coast at Famara to enjoy the waves with local surfers and windsurfers and don't forget to try the local wine Malvasia cultivated from the black volcanic earth that covers the island.
Private boat rentals in the Canary Islands are made easy with Boataffair. Our local community of boat owners is on hand to create a tailored holiday just for you. View our listings of privately owned boats in the Canary Islands and leave your guidebook at home to enjoy authentic experiences that will remain with you forever.