A Catalan Cruise
Welcome back to the Boataffair blog where we continue our ongoing series of country profiles and explore the exciting possibilities of what it means to rent a boat or charter a yacht with Boataffair. In today's entry we turn to the Costa Brava and offer you authentic experiences, curated by our local boat owners, that go beyond the guidebook. Boataffair spoke with our local boatowners in the Costa Brava who shared their local knowledge, passion and experience of the region to offer you their must see sights and places to visit in this beautiful part of Spain. Rent a boat in the Costa Brava, leave your guidebook at home and let our boatowners create an itinerary for you.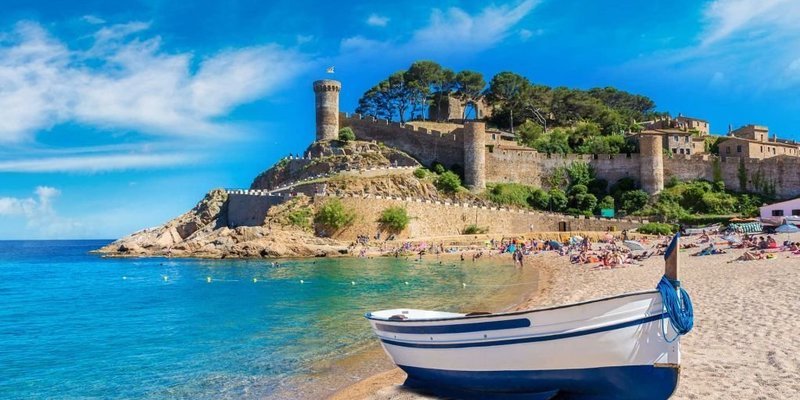 Situated in the North East of Spain the Costa Brava is part of the Catalonia region of Spain. Home to comarques of Alt Empordà, Baix Empordà and Selva in the province of Girona it is known for its beautiful climate, wide ranging landscapes, bountiful beaches and local gastronomy. Boat rentals in the Costa Brava have increased in recent years as tourists, both from Spain and further afield enjoy this beautiful region.
Why rent a boat in the Costa Brava? For those who don't know, the Costa Brava is all about sun! Beaches, natural coves, crystal clear water and beautiful terrain to stroll along are all characteristics of this region. Charming fishing villages intertwine with nature to create a location that awakens all of the sense. Charter a yacht in the Costa Brava and discover the magic of this beautiful region. What makes renting a boat in the Costa Brava exciting is that the destination is ideal for short and long boat rentals, groups of friends, families and romantic breaks. Our local boat owners chose their top three coves, beaches and restaurants to enjoy when charting a yacht or renting a boat in the Costa Brava.
Top Coves in the Costa Brava
El Racó
El Raco is the first beach that you will encounter if you come in by the North. Near to historic medieval town of Pals El Raco is the widest beach in the Begur area. Moor here for the day and soak up the son before travelling to the nearby Medes Islands.
Aigua Dolça
Close by to the beach of Tamariu, Aigua Dolca is ideal for those who enjoy a more cosy, smaller beach. Whilst the cove may not have the sand of its neighbours, the gravel and pebbles as well as the nature certainly make up for it. Home to a small pier and spring, Aigua Dolca is also known for its beautifully clear waters.
Les Tres Platgetes
Ideal for divers the cove of Les Tres Platgetes is home to coral reefs, rocky areas and underwater caves. Just 200m from the larger Gran beach, Les Tres Platgetes offers a wonderfully rugged and beautiful landscape and makes the ideal point to stop and enjoy nature.
Top must see Beaches
El Golfet
A romantic beach home to clear waters, marine life and a nature lovers dream. Sheltered by deep green pines and jagged rocks, the beach is known for its sense of calm and tranquility.
Pals
Fine golden sand is the name of the game at Pals. in fact, three miles of it awaits you! Ideal for families, the beach is ideal for watersports due to its open nature. Surfing and windsurfing are the two most popular watersports so grab your board and dive in.
Platja Fonda
Deep emerald water surrounded by unspoilt nature Platja Fonda is a peaceful and welcoming beach. Natural rockpools, inlets and a rural charm are defining characteristics of this gorgeous beach. Ideal for snorkelling and spending the day before heading along the coast.
Top local restaurants

Els Brancs - Roses
A feast for the eyes and more, Els Brancs is beautifully situated with a wonderful seaside view of the Bay or Roses. The only restaurant in Roses with a Michelin star, teh restaurant is known for epitomises catalan flair and creativity. All of the produce is from the area and is of the finest quality. Choose from the Experiences menu or a tasting menu and delve into the culinary delights of Catalan gastronomy.
Casa Anita - Cadaques
Since 1960 Casa Anita has been a landmark of Cadaques. The family run restaurant has entertained many a famous face during its 50 year history including Salvador Dali, Kiri Douglas and Yul Brynner. The informal, communal tables abound, and laid back dining style has no written menu, more so what is available is told to the diners.
For boat rentals in the Costa Brava with authentic experiences tailor made for you browse our boats to rent in the Costa Brava and start your Boataffair.