I immediately understood where she is coming from, after all, where else can you so totally disconnect from the noise of outside world, focus more on yourself, breathe in the beauty of life around you? It made perfect sense, that a coaching programme and the retreat part of it are to be hosted on the boat.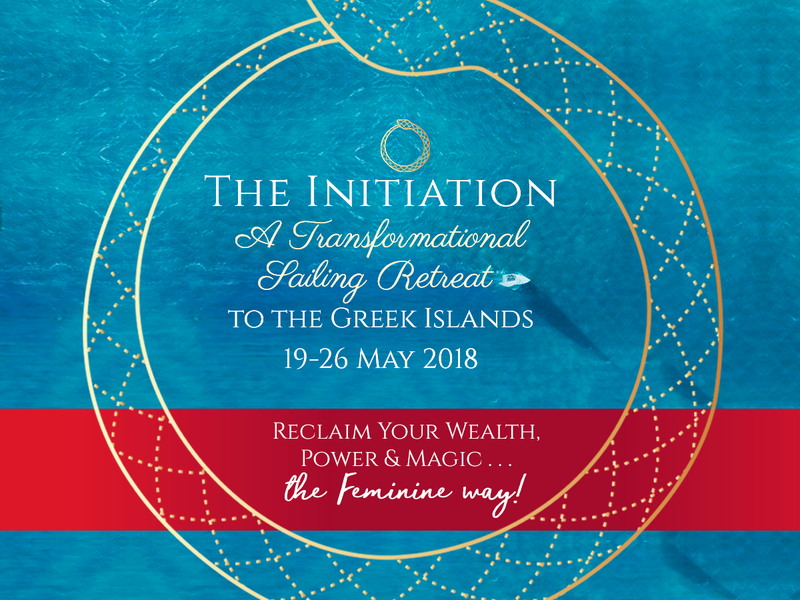 I got very excited about this, as we just launched "experiences" on Boataffair and this was a totally new angle. The customised retreat experience, which was meaningful and mindful.
As an entrepreneur, who went through a transformation a few years ago (or still going through it as you are with those things) I was very intrigued by the programme and its content!
After our initial chat and me probing a little about her requirements and what she specifically had in mind – Antonina has admitted she does not have much knowledge about boats and that's where Boataffair comes in with our experiences and network.
Very quickly we figured out together, that what she wants is a comfortable and spacious enough yacht.
Women doing the retreat will need to be comfortable and relaxed to fully immerse themselves in the coaching work and experience. I suggested a catamaran, as its known for its width and space.
We looked at a selection of catamarans and a stunning Lagoon 450F immediately caught Antonina's eye.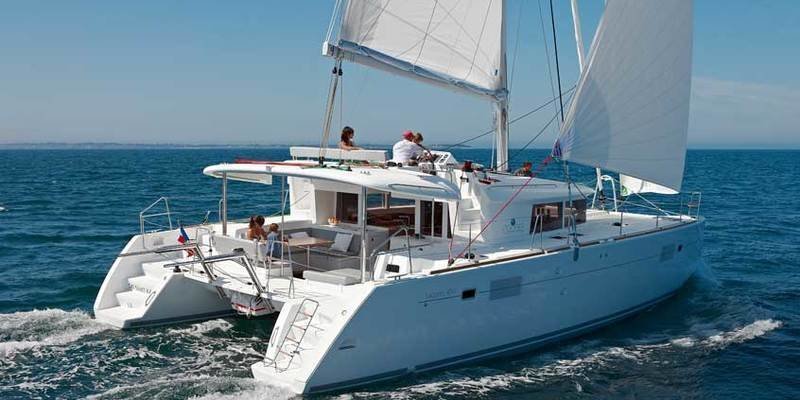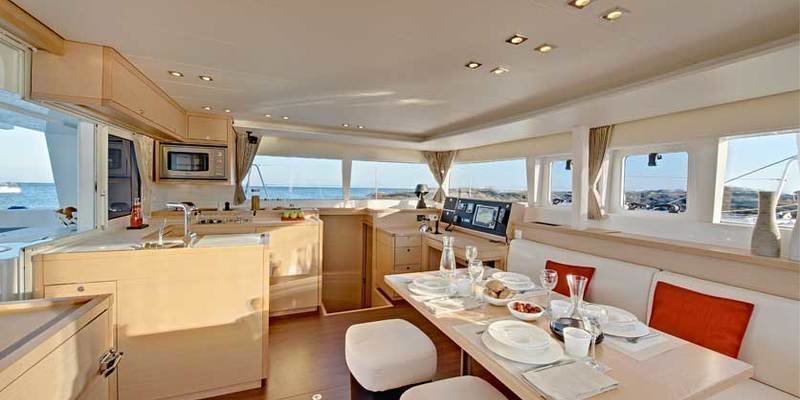 Once she connected to the boat owner and asked all the questions, it was settled and the catamaran was booked for May, departing from Athens. The itinerary is being developed to cover visiting at least 4 small islands in the Cyclades.
The pace has to be relaxed, away from crowds and getting to see and experience truly local and authentic places. Thanks to the boat owner and his wealth of knowledge, we worked together to identify the best itinerary to suit Antonina's needs precisely. One of the experienced skippers will be in charge and as a next step, we had to decide on a hostess.
Antonina had very specific details in mind – after all her retreat is called Power, Wealth and Magic and focuses on mind body and soul to assist necessary the transformation in those areas. So, underlining all of it is nutrition and taking care of one's body to impact all other areas.
When I heard that, I remembered meeting a renowned foodstylist and recipe editor in Switzerland – Andrea Mausli. Andrea is a succesfull female entrepreneur and a passionate sailor!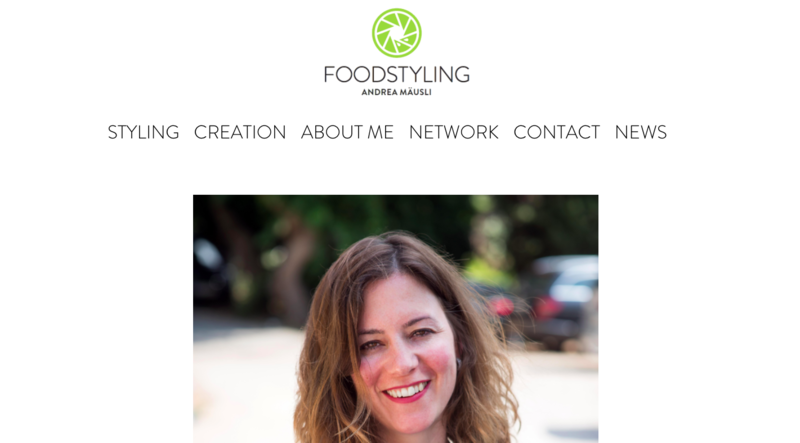 It felt like a match made in heaven, so I contacted Andrea and asked whether she will be interested in a retreat like that. Custom culinary experience on the boat with a fresh and locally sourced produce. Andrea had availability (it's meant to be!) and agreed to provide her culinary services during the retreat.
Moreover, she offered to do a few fun cooking classes on the boat too! Therefore, the elements of the retreat came together with a high degree of customisation to match the requirements set by Antonina for her retreat.
At Boataffair we are all very excited to be supporting this amazing experience and we will write a detailed overview once the retreat took place in May! Watch this space
For now, I have interviewed Antonina to find out a little more about the retreat. Here is the small interview: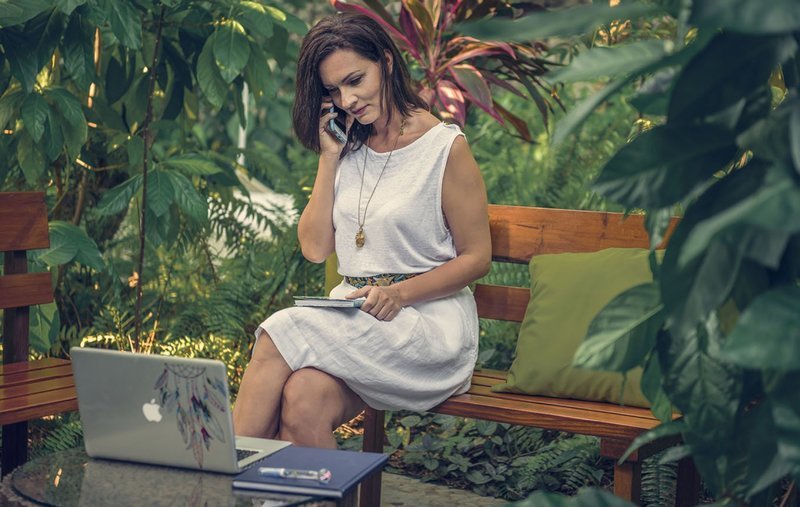 1. Tell us about the retreat and its purpose
This retreat was designed for women who are wanting to reclaim a piece their feminine nature.
Away from the every-day routine and their roles of Mother, Wife, Sister, Boss, Friends etc.
An opportunity to really look inside and answer the question; - "Who am I, really and what do I want?"
We have women from all over the world and all walks of life coming together wanting to experience and re-connect with themselves through mindfulness, mediation practices, visioning, mindfulness and exploration.

2. Who is it for and what are the reasons to do the retreat
This is for you if you are a woman who loves travelling, craves living on her own terms.
Someone who believes in cultivating a life that not only looks good on the outside but feels good on the inside too.
3. Why have you decided on such format and location - Greece and on the boat
As an adventurist myself, I craved something different than the usual villa format.
Furthermore, I KNOW that real breakthroughs happen in those "spaces in between".
In taking the group out of their normal environment we create that space.
Greece has long been a favourite of mine.
It's rich culture that spans centuries with its remains, breath-taking views, delightful food and spirited people who really know how to celebrate life serve as the perfect backdrop.
While being ON the boat, will ensure they are out of their normal surroundings with no destructions which allows them to use the maximum of their brain capacity and expand their horizons.
4. What do you expect your clients to gain as a result of the retreat
When I was designing the experience, my intent was - full cellular level transformation.
Meaning, the person who came on to the boat is going to be a different person to who will come off the boat and that's a good thing!
We are going to give them tools, support, coaching and equip them with strategies to create clarity, balance and peace of mind to take home and apply over and over again.
5. Why did you decide to work with Boataffair on this experience
I took the time to get to know the Boataffair team and loved their outlook, ideas and the fact that they were so hands-on with everything.
Their personalised touch and unending support were not unlike the support I like to offer to my coaching clients.
I already had the idea to do something different with my coaching practice and this seemed like the perfect opportunity.
Boataffair helped me source the boat, the skipper and even connected me with some really useful contacts.
Basically, were with me every step of the way which further solidifies my trust in them as a company.
6. Future plans?
I would like to believe this is just the beginning and look forward to designing even more experiences for and with Boataffair.
Taking my clients on the most exciting inner and outer journeys of transformation.
Are you interested to learn more?
You can contact Antonina on antonina@thecoachinista.com or WhatsApp on +447557673716
If you are interested in a custom designed culinary experience contact Andrea on andrea@foodstylistin.com
For all Boataffair experiences just email nzubova@boataffair.com