Capri, one of the islands of the Neapolitan archipelago, is located in one of the most beautiful and prestigious regions of the Mediterranean. The island is, in fact, situated just in front of Naples and in the Centre of the Gulf of Naples. This was the home of ancient civilisations and the key to the growth of culture and civilisation in Europe and beyond. Pompei is just a testimony of what used to be here. Today, this is one of the Mediterranean's luxury capital, with celebrities visiting the region regularly.

The places to visit in Capri are almost infinite. The island is famous for the food, the villas and for shopping. The beautiful landscapes can be admired directly from Monte Solaro, the highest point of the island, from which the whole island and Gulf can be admired. Also, by visiting Punta Carena the sunset can be admired, making this a very romantic spot for couples. By sea, one of the most unique spots is the Blue Grotto (Grotta Azzurra), a half-immersed cave where the light creates a blue reflection that illuminates the entire Grotto. This is a truly amazing sight. Also, from the sea the famous Faraglioni can be seen, one of the symbols of Italy's luxury during the economic boom of the pre-2008 recession era.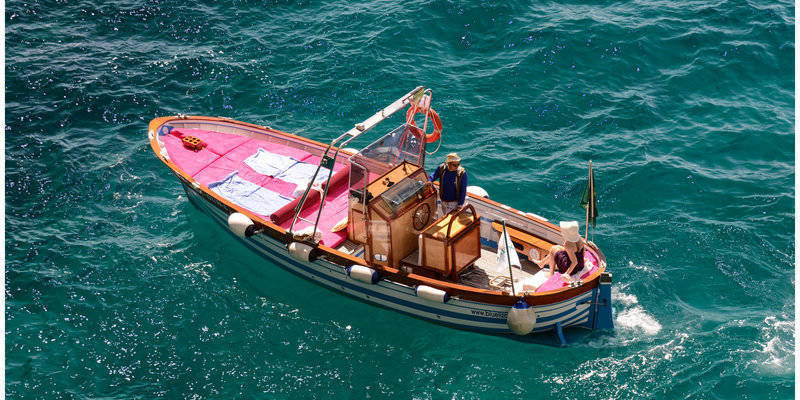 Thanks to Boataffair the true lifestyle of Capri can be experienced. Boat owners Costa and Luigi allow you to visit Capri in style on their boats. Their Gozzo Italiano for example (click here to see their lovely boat), a fantastic 9m motor boat, will take you to explore all of the majestic shores. They recommend the boat especially for couples, as they offer privacy and comfort, allowing romance to spread while enjoying the sun and the landscape. Plus, the possibility of renting the boat with a skipper will allow the guests to just relax and enjoy the beautiful ride.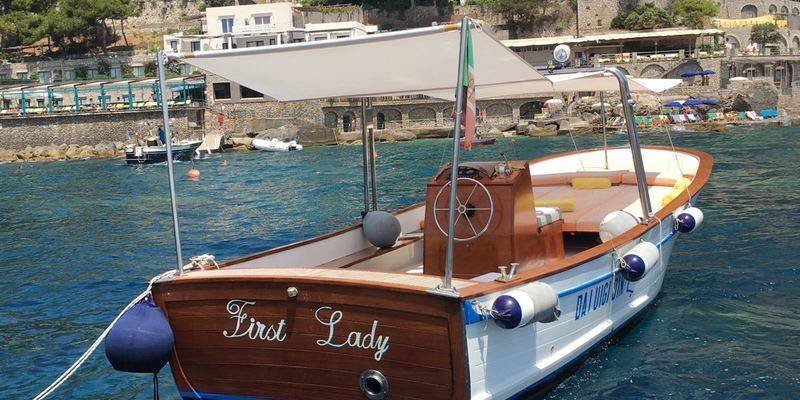 What makes this even more unique are the fantastic experiences offered by the owner. Tailored tours of the island, created to accommodate all the possible needs. They are so special that guests can choose, depending on their daily plans, how long they can be. Tours can be full day, half day, 3 hours and 2 hours, allowing all of the possible needs to be accommodated. Thanks to our boat owners, you will be able to visit unique and unforgettable places like the Blue Grotto, the Faraglioni and the romantic Punta Carena, with, of course, unlimited swimming breaks and sunbathing time.
Get in touch with the owner and start planning your tailored, fantastic experience visiting Capri on a boat! See the first lady here: First Lady in Capri