We spoke to many boat owners and looked at many platforms, gathered feedback and tried out different things. Myself, being constantly short on time and generally impatient with online registration forms, I put myself into my clients' shoes. So, I knew that the boat listing has to be a fast and easy process (as I know in our modern world many are short on time and impatient), but it also needs to be secure.
So, in this post I wanted to walk you through a few simple steps that you, as a boat owner, need to take to list your boat on our boutique platform.
First things first – we will ask you to register. Of course, I fully share the pain of having to register yet again on another site, but it's done for security purposes, and therefore necessary to protect all the parties.

BUT: How long does it take? Under 60 seconds!



You start by clicking on either List your boat or Sign in – the sign in page will appear. If you do not have a profile already – simply click "Create new profile".

Fill out your name, surname, email and password – 30 seconds.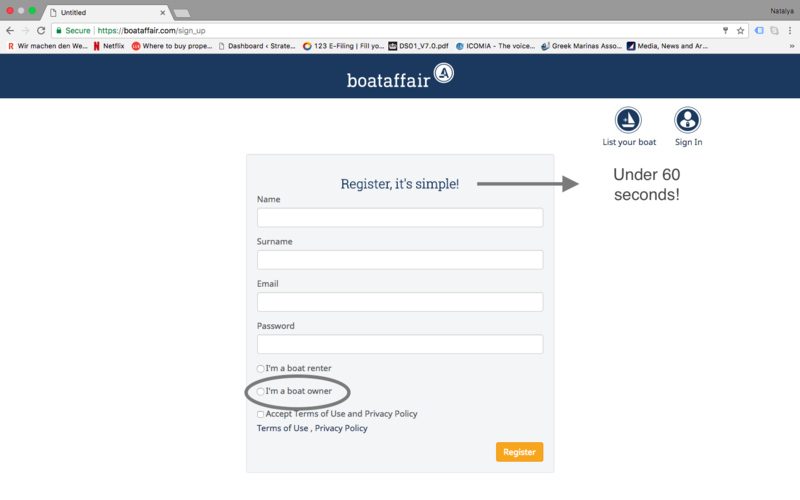 | "The secure code sent to your email address is our first layer of verification"

You will then get your confirmation via email in a form of a code – simply copy and paste it in the field you will see on the boataffair website. This is our step 1 verification via a secure code to verify the email address provided. You profile has now been successfully created! In under 1 minute. What happens next?
If you started from the button List your boat – before you can list your boat, we kindly would ask you to provide your phone number and you will be directed in your personal information menu. Simply add the phone number and click save. This is step 2 verification. We will never disclose your phone number, so rest assured of the safety of your data. If you started from Sign in you will be in the personal dashboard, simply click "List my boat" in the My Boats section.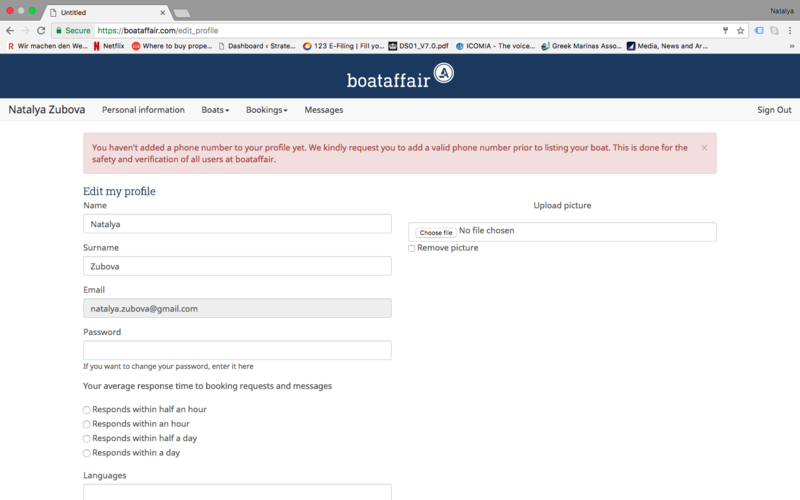 | "The whole process of listing the boat is managed in one page"

The whole process of listing your boat is done in just one page. We will not ask you to take several steps and redirect you to different pages. Only one simple form to include necessary information about the boat, its unique features, pricing, location, description and photos.
We include a step-by step guide at the top of the boat listing from (if you click on it – it will open in a separate tab, making it convenient to refer to it if you have questions)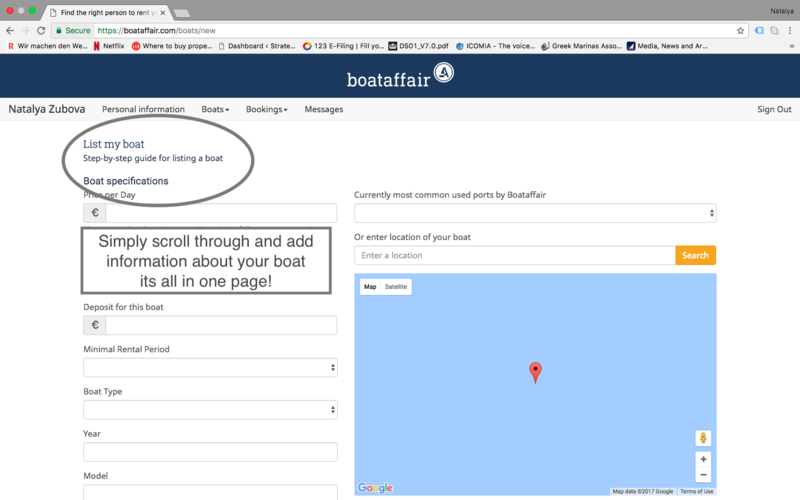 Location: we offer a list of most popular ports currently used on Boataffair. You can either select one of them, or you can input the address and it will be shown on the map. We know, that address sometimes may not be as accurate as to where your boat is physically located – so you can simply drag the marker on the map for the most accurate location. You do not need to do anything else – the map will show the location on you listing.
So, once all the information has been filled in – you can either save it as draft (if you need to come back to it before submitting) – or you click submit.
Next: you are in your personal dashboard and you see your brand-new boat listing under "My boats". You can preview the listing to see how it will appear on the site by clicking on the "eye". Should you wish to amend anything, simply edit the listing and save.
You will note that the status of your boat will say "Waiting for approval".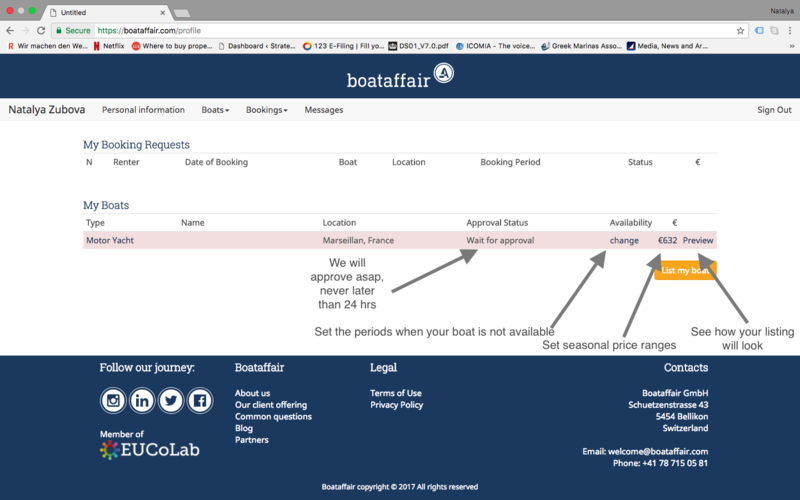 Once we receive the boat listing submission, we carefully review it, to help you maximise its attractiveness for the potential boat renter. In some cases, we will write to you to suggest how we can improve the boat listing – and if you want - we are happy to do it ourselves too. Otherwise we will just simply approve the listing and it will immediately go live.
Please take another minute to go and take a look at the "personal information" section of your dashboard menu. You will see that there are few fields, which are non-compulsory, but essential to improve the chances of your boat listing. Fill in the languages you speak, add few words about yourself, upload a photo. This will improve the likelihood of you renting out your boat.
All that will display under "Boat owner" information in our boat listing and will allow for the potential renters get a sense they know a little bit more who they are talking to – this creates trust and higher willingness to engage – either by sending a message via our integrated messenger function or even proceed to book.

| "You list the boat, we make sure to promote it to a quality audience"

Small things sometimes make a big difference. So, if you are a boat owner – join us today and we promise, we will take only 10 minutes of your time to create a listing. Subsequently, we will do all the hard work to promote your boat to a quality audience and ensure boat rentals.
Myself and our whole team are always happy to hear your feedback and suggestions – so do write to me on nzubova@boataffair.com and don't forget to list your boat https://boataffair.com/