Online booking has long become a norm. We routinely book our hotel stays, apartment stays, flights and many other things. So, let's discuss how easy it is to rent a yacht online.
When you are thinking about a yacht experience, what is the reason for you to book? Do you want to go on a boating holiday abroad, are you planning a proposal, are you looking to celebrate a milestone birthday? Or do you just want to spend a day on the water with some friends and family, go fishing or learn how to sail?
Whatever you want from a yacht charter, Boataffair offer a simple 3 stage booking process with a personal human touch. Our dedicated yacht charter team will guide you through our booking process and make sure you have everything you need included in the price.
How to charter a yacht in 3 simple steps
1. Search for a yacht charter
Boataffair have 100s of the finest luxury yachts available to charter in over 90 countries worldwide. There are several ways to start your search on boataffair.com

1. Choose a location on the boat rental page to browse our range of luxury yacht charters

2. Start your search by browsing our Yacht Experiences. We have a huge range of Yacht Experiences to inspire you. These can be filtered by category. We have everything from Special Occasions to Island Hopping. You can also browse by Location – we currently have 40+ hot spot destinations worldwide.

3. If you know what type of yacht you are looking for you can also search by yacht type. For example Catamarans, Sailing yachts, Motor yachts and Superyachts

2. Get in touch. Ask questions and create your dream yacht vacation. Find out how much it will cost to charter a yacht on your chosen dates.
Once you have registered a Boataffair account, you can contact our team directly. Now you can check exactly what's included in your yacht charter, what to expect or what you can bring on board. One of our Boataffair dedicated team members will answer your questions and get your detailed quote prepared for you based on your EXACT specifications.

Use the "Send a message" and "Request and offer" buttons on each page. Click on the button to get the chat opened & send us a message.

3. Confirm your booking and Pay
Happy with the offer? Chatted with your group & ready to book? Great! We will send you an invoice with the exact offer information & secure payment link. You can pay us via Bank Transfer or with a Credit Card.

Example of how to rent a yacht for a week
Still unsure of how to rent a yacht? Let us guide you through an example booking.
In this example we choose Greece (in location) and Island Hopping (Category). You get over 5 pages of incredible island-hopping experiences across Greece & Greek Islands. Now you can browse, compare & contrast!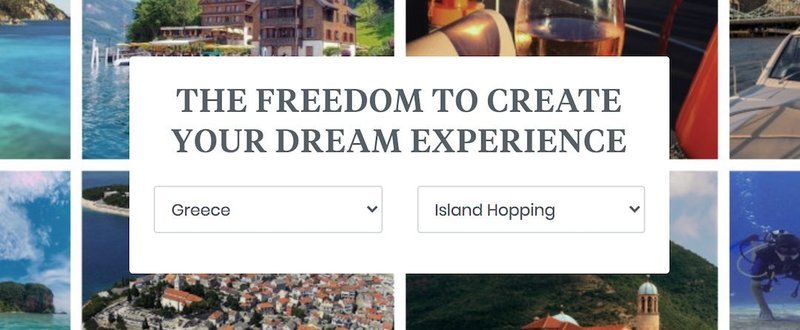 When you open an individual experience, you will immediately see a description to understand what you will see & do for the duration of the trip. You will have some factual information summarised on the right-hand side. This includes starting price, how many people, duration, special features and how many different yachts this experience is available with. Scroll down to see all the yachts you can book with this experience.
In many cases, there are a few yachts to choose from depending on your personal preference, group size and budget. Here you can also choose if you want a bareboat charter, a skipper or a full crew (skipper, hostess, chef?) etc.
Any questions? Simply send us a message
If you are new to yacht rental, or if you are unsure about any of your options – simply click on "send us a message". Then a member of our yacht concierge team can walk you through your options and booking. We are here to make sure you have everything you need on board your charter yacht – from food and drink, to sports equipment.
You can also check our FAQ page.
Final thought. Why start with experiences? Because browsing our yacht experiences allows you to see what is available. Our yacht experience section is a great place to get inspired by various ideas, and to research and understand what you want. All of Boataffair experiences are crafted by local yacht owners and managers, meaning that you get first-hand knowledge of people who know their location in-depth & can offer a truly authentic sailing experience.