All 3 types of boats (sailing boat, catamaran or motor yacht) are vastly different and choosing the right type is crucial for your experience. Pick the right yacht type in the right location and you are a fan of yachting holidays for life – fact! Pick the wrong one and you may end up thinking you do not like this exhilarating experience on the water.
Here are a few factors you might want to consider before choosing your charter boat:
How big is your group?
Do you have small kids or elderly passengers?
What is the aim of your trip? Do you want to just laze around and do plenty of swimming & sunbathing - or do you want to learn to sail and get some wind in your sails?
How long are you going for?
What is your sailing/yachting location and what is the season there?
What is your budget and is it relevant?
Finally, have you sailed before & do you have a personal preference?
Learn the difference between different types of charter boat
1. Sailing Yacht charter

Let's start with the Sailing yacht charter. A monohull sailing yacht is stunning and usually an image which is conjured up when talking about sailing. They are stunning and sleek. Their performance can be truly exhilarating if this is what you are after. If you want to learn how to sail for example, you do not need to think twice. You need to learn on a sailing yacht. See below a picture of our Jeanneau sailing yacht 45.2 in Greece.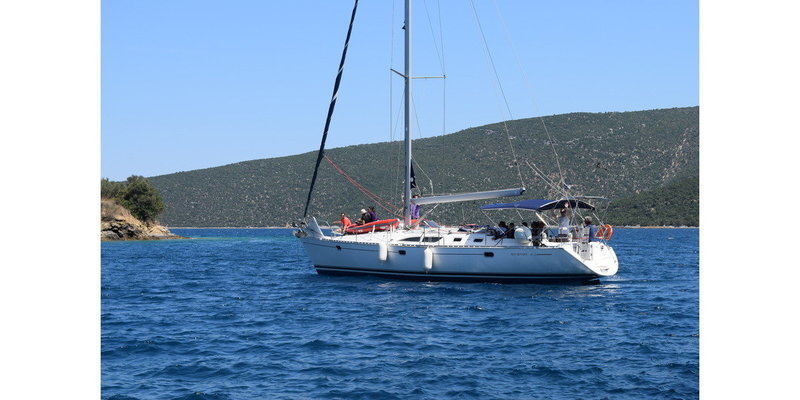 Sailing yachts are suited better to those who want the thrill of sailing, learning to sail or if you are a smaller group, a couple or a family. Sailing yachts generally have less space, cabins are smaller too as are the cooking and kitchen amenities. If you are a big family, sailing yacht (even a bigger one) may feel a little more cramped.
Sailing yachts are also less stable as they have more heal. Waves are felt a lot more on the monohull sailing yacht too! So, if you tend to get sea sick chances are higher to feel worse on the sailing yacht vs a much more stable Catamaran. But of course it is perfect if you want to feel the boat and want to learn the true sailing experience!
Finally, duration of the trip & budget: if it's a day trip and you are not sleeping on board, sailing yacht can be a good choice even for a larger group. After all, you will be spending a day swimming, sunbathing and hoping on and off board on land (if you after some sightseeing). Sailing yachts are perfect for team building events & corporate retreats.
In summary, a sailing yacht is right for you if:

you want to experience the thrill of sailing or learning to sail
you are in a smaller group and happy with compact living quarters
you want to feel the boat and the waves - and don't suffer from sea sickness!
you are booking a day trip, team building event or corporate retreat
2. Catamaran charter

First of all – it's important to note that there are 2 types of catamarans – sailing catamaran and power catamaran.
Sailing catamarans combine the beautiful sails and the stability that comes with 2 hulls. Power Catamarans offer the same stability, but do not come with sails.
Catamarans are loved for their space & comfort aboard. If you are a large group or a big family Catamaran will offer plenty of space inside & outside for everyone. You can dine Al Fresco at the aft deck, sunbathe or gaze at the stars on the net at the front, jump off the large swimming platform into crystal clear waters or sit with a book inside next to the galley. Options are aplenty as are activities.
Pictured here is our Lagoon 380-S2 in French Polynesia.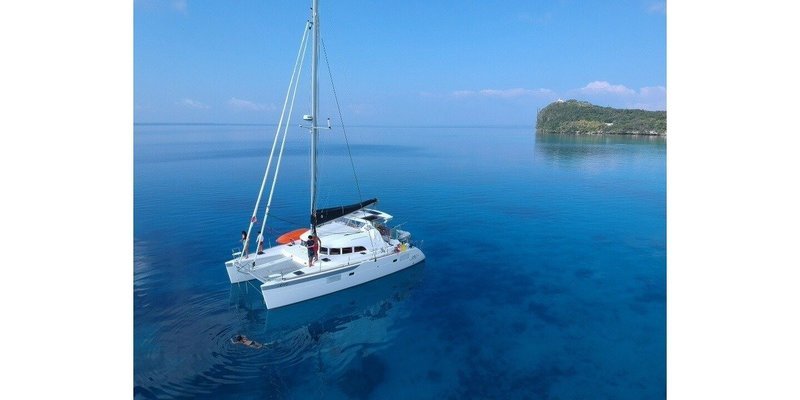 If your group has small kids (toddlers) or elderly passengers, they will feel much more stable on board a catamaran, which absorbs the waves much better and therefore offers a lot more stability.
Ample space inside means that cooking is also a lot easier and more pleasurable aboard a catamaran. So, a gourmet cruise is much easier executed aboard one of the double hulled beauties as opposed to the monohull yacht.
Overall, if you are after a sailing holiday and want to do some island hopping in Greece for example, Catamaran charter is a great, comfortable option to consider. If you are a family with kids, you will benefit from space and variety of activities. Not even teenagers will feel cramped as there is so much to be seen and done and if guests want some alone time it's perfectly possible aboard a Cat.
Hen do's, couple holidays, celebrations, honeymoons, retreats, family holidays – for all those occasions look into catamaran charter and you will not regret this!
In summary, a catamaran is right for you if:
you want space and comfort inside and outside
you are in a large group or family and want to dine Al Fresco, sunbathe or gaze at the stars
you have small kids (toddlers) or elderly passengers
you want a stable yacht - the catamaran's twin hulls absorb waves
you want to spend tie cooking
3. Motor Yacht Charter

When we talk about a Motor Yacht charter, many automatically think about mega yachts anchored on the Amalfi coast, Portofino or St Tropez with endless celebrities enjoying their summers aboard in total luxury. Many feel motor yachts are an inaccessible luxury.
In reality – there are many truly luxurious yachts that are expensive yes, but do not have the heavy price tag only an A-List Hollywood star can afford.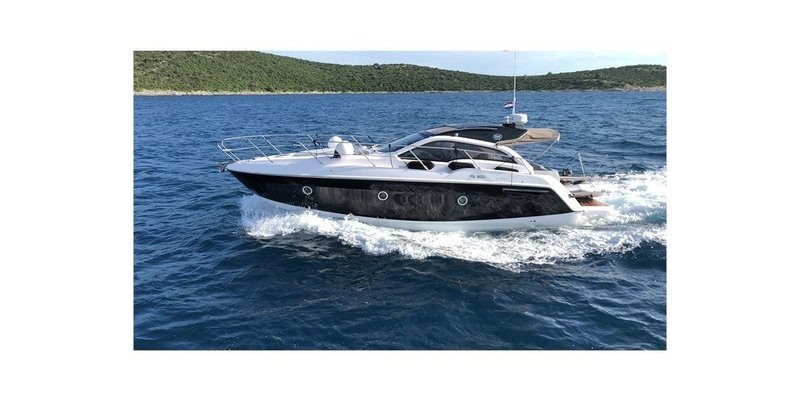 Motor Yachts are designed for speed, comfort & pleasure. Charter a motor yacht for a romantic weekend for 2 and feel pampered. Pictured above is our Sessa Fly C35 motor yacht in Croatia.
Motor Yachts are generally more expensive than the sailing yachts or catamarans of the same class. Additional fuel costs also add to an overall increase in the spend on the motor yacht vs other boat types. But bear in mind, motor yachts also offer superior speed and cruising, they are comfortable & truly luxurious. It can be compared to sleeping in a hotel suite which moves!
Smaller 7-12-meter yachts are great for a day charter when you want to get from A to B fast. Lunch at restaurant only accessible by boat? Trip to another island for lunch & drinks? Day trip to see whales & dolphins with champagne on board? Check!
Larger motor yachts with a master suite, VIP suites and on-board accommodation are suited to romantic weekend gateways, yacht parties & sunset dinners, marriage proposals, big celebrations (super 50th Birthday?) to name just a few or simply a few days away aboard a yacht being catered for by highly professional crew.
In summary, a motor yacht is right for you if:
you are planning a romantic weekend for 2 and want to feel pampered
you want comfort and true luxury
you are planning a day trip to a restaurant only accessible by boat, or a trip to an island for lunch and drinks
you are holding a big celebration, such as a sunset yacht party, marriage proposal or special birthday party
Boataffair are here to help you find your perfect boat charter holiday

We hope this guide has helped you understand the differences between some the of main types of yachts available to rent.
As you can see, the ideal boat on the water depends on various factors and of course on your personal preferences. We are convinced that we have something for everyone and our expert partners in 60+ countries have a wealth of technical skills, local knowledge and unique experiences to boast. When you decide it's your time to have a fantastic experience on the water, do get in touch with us. We would love to have a conversation with you. Our email where we can be reached at all times is welcome@boataffair.com.
We look forward to helping you create your boutique yacht experience!