While the numbers of infected are rising, many people who had the virus have already been cured and most severe cases recorded mainly concern the elderly with chronic illnesses and underlying health conditions – the groups which are traditionally the most vulnerable to any type of flu or influenza-type outbreaks.
Many age groups report very mild symptoms, with some age groups such as the under 9s being least affected with 0 mortality rates and 0.2. rates for the 10-39 age groups. Here is the link to the article of the age & demographics statistics for COVID -19 (Corona virus).
COVID-19 Fatality Rate by AGE:
*Death Rate = (number of deaths / number of cases) = probability of dying if infected by the virus (%).
This probability differs depending on the age group. The percentages shown below do not have to add up to 100%,
as they do NOT represent share of deaths by age group.
Rather, it represents, for a person in a given age group, the risk of dying if infected with COVID-19.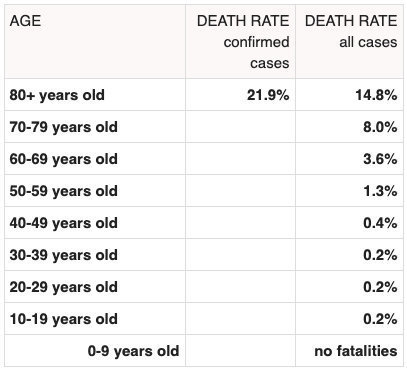 (Source of graph above: https://www.worldometers.info as of February 29, 2020)
This, however, does not mean it is not serious. It is serious and it's spreading really fast. Many governments are putting urgent travel restrictions in place and advising their citizens to avoid all unnecessary travel.
Of course, this type of international outbreak is very worrying, and many people are currently deciding to avoid unnecessary travel. Official recommendations published by the World Health Organization (WHO) with regards to international travel are as follows:
"It is prudent for travellers who are sick to delay or avoid travel to affected areas, in particular for elderly travellers and people with chronic diseases or underlying health conditions.
General recommendations for personal hygiene, cough etiquette and keeping a distance of at least one metre from persons showing symptoms remain particularly important for all travellers. " Here is the link to the full article
So, what does this mean for holidays or leisure travel this year? If you are in the most vulnerable group (elderly and/or sick with underlying chronic diseases or underlying health conditions) then it is probably best to avoid all travel and take precautions to keep yourself safe and minimize the risk of infecting others.
For everybody outside of the vulnerable group, it is ultimately a careful decision to be made. You also need to check regularly about various international travel restrictions here
Here are a few questions to consider.
1. Is it safe to travel to a large resort in a popular tourist spot?
If you are/were planning to stay at a popular tourist destination in a large resort, you may wish to consider if it is best avoided to minimize potential exposure to the virus or those carrying it. The more people are concentrated in one place and especially since you will be sharing resort facilities, the higher the chances are of contracting a disease.
This does not mean, however, that you need to forgo your annual holiday entirely. What you may consider, is whether you would like to change your vacation to a yacht vacation. You can still enjoy the beach – but you can go to a deserted one by boat, you still get to sunbathe and swim, enjoy watersports, but from the privacy of your own yacht and away from the tourist crowds. Just your private group and a trusted crew.
2. How long will it take to travel to your destination?
Long haul flights, in tendency, pose slightly more risk to be exposed to the virus, whilst shorter flights fair better – as long as you take all necessary hygiene precautions, wash your hands regularly, follow good cough hygiene.
You may want to choose a shorter flight. Length of the flight is not in official guidance yet, but simply because it is easier to maintain strict sanitary regime during a 4-6 hour flight rather than a 24-hour flight. Consider what holiday and boating destinations have a shorter flight time for you. Follow official guidance on upkeeping hygiene and make sure everyone in your group follows it. Once you are on a flight, sanitize the areas you are likely to touch – like a table, seat handles and any other things you will touch, but most importantly wash your hands and minimize touching your face. Here is some good guidance for the flight hygiene in the recent New York Times article based on the advice of associate professor of medical microbiology and immunology at the University of Wisconsin Madison – Andrew Mehle.
If you do consider a boating holiday, we offer 60+ popular destinations worldwide. Send us a message and we will guide you about a possible destination for you and what we would recommend, based on the regular communication we have with our trusted local partners in those locations.
Additionally, if you have additional budget, you may wish to consider a private jet charter. If booked in a clever manner, you can even take advantage of some empty routes and get a very competitive price and ensure extra safe travel and a comfortable flight. If this is of interest, Boataffair is partnered up with a private jet company to offer some great deals.
3. What measures are in place by the holiday provider to minimize the risk of infection?
If you have already booked your holiday, it is important to have full information to help you make your decision. Ask questions and keep yourself informed.
At Boataffair, because we carefully select and vet all our partners, we are consulting with them regularly to make sure we can provide transparent and up to date information to clients. If you have booked your yacht charter with us and have questions or concerns, please contact us on welcome@boataffair.com so we can help and answer all your queries.
Additionally, all our local yacht managers are monitoring the crew, to ensure that the crew who is on charters are healthy and follow all official hygiene procedures.
4. How easy will it be to access good healthcare in your destination country?
This is an important point, as for peace of mind you want to know that you will be able to access local healthcare. This is especially important during the Covid 19 health crisis. Check your travel and health insurance, make sure your policy has been updated with regards to the coronavirus outbreak. If you are travelling somewhere very remote, check with the local government website about their procedures on dealing with the outbreak. Keeping yourself fully informed is key in making decisions regarding your travel.
If you have a destination in mind that you are considering and you want to explore your options for a yacht vacation – just contact our team on welcome@boataffair.com or via WhatsApp +41786122919 and we will offer you honest, transparent advice based on the local knowledge for every destination we offer in 60+ locations globally.
Finally, we would like to offer you the following thoughts:
If you are a healthy individual with no chronic illnesses and underlying conditions and you are not in the age "risk group" – then you are most probably still looking to have a holiday in 2020. Or you might be looking into your options for your Easter break. Therefore, do consider, among your options, a holiday aboard a yacht instead of any land stay where you will still be with groups of strangers from other countries.
Is a yacht charter safer than staying in a hotel?
Yes, you will still need to take a flight to your destination (see point 2), but then you can spend a week relaxing, sunbathing, enjoying delicious food (which will be pre-ordered online and delivered in time for your yacht charter, so you do not have to do any shopping in public places) and swimming in crystal clear waters at your holiday destinations. Itinerary can be geared towards more "private" spaces – no major island visits to landmarks but rather visits to secluded bays and coves of breathtaking beauty.
Vetted yacht selection, careful attention to crew & destination selection
At Boataffair, we only offer a vetted selection of hand-picked yachts in 60+ destinations. We select our local yacht managers very carefully and we have built relationships with them. This is why we are in a position to offer our clients guidance and honest advice about your yachting vacation. We can assist with the choice of destination and monitor the situation with a trusted partner there.
Quality before quantity
We are in regular and direct communication with all the yacht managers at Boataffair to be able to provide timely advice. We know that they take careful attention regarding crew members and the health and safety of our guests.
We do not offer tens of thousands of boats available worldwide, because then we will not be able to deliver the level of service our clients expect (and you should!) - where we can ensure a quality experience of our guests.
Especially in the times where careful attention to quality is paramount in case of an epidemic virus outbreak. Less is more, our hand-picked partners and yacht inventory worldwide will make sure we can offer sound vacation advice.
We are already seeing the rise in the number of enquiries from clients who are switching from a hotel stay to a yacht vacation. The last example today was a yacht enquiry for the Easter break for a party of six in the Indian Ocean.
Can we help?
Email or call us on welcome@boataffair.com and +41786122919 for a non-binding consultation and quote today and you can still enjoy a holiday, at the same price as a hotel stay but more private and away from the crowds.