We wanted to write this short guide to help you if you are a boat owner who is renting out your own boat. Enhance your listings, your chances of bookings and make sure you get positive reviews. Gain additional income by renting out your own boat with Boataaffair.
Let's start from the beginning.
Boat listing

Photos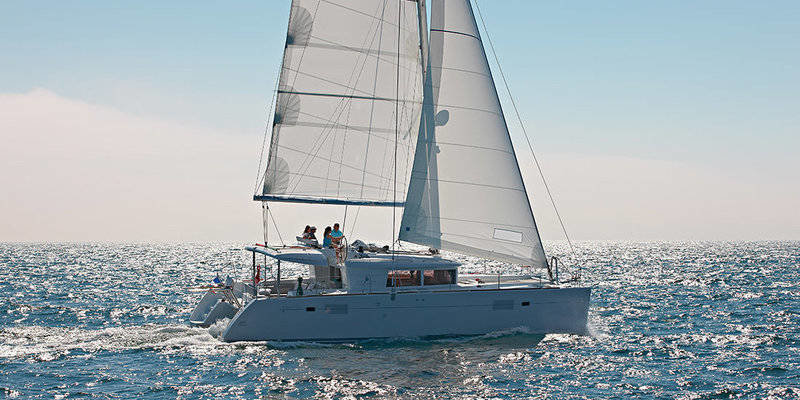 High quality photos, showing boats interior, exterior and any unique features it has. A picture can speak a thousand words, and its hugely important to have a good quality one. Boats are an attractive asset to showcase, a beautiful shot of the whole boat from the side will show it in all its glory.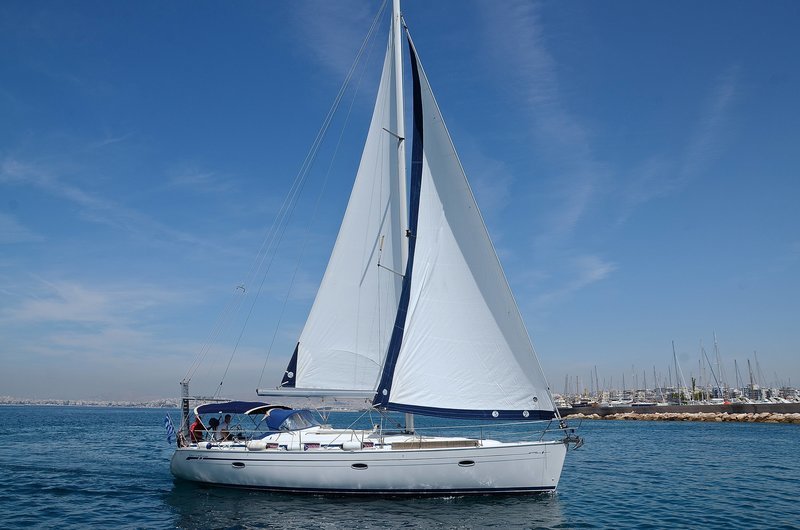 Bavaria 42 Cruiser in Athens

Adding a bowl of fruit or a bottle of wine on the table will entice clients to imagine how relaxing it will be on-board and how enjoyable their time could be.
The boat needs to look clean and tidy.
If the boat is large and perfect for a group of friends, adding one or two photos with a group of people enjoying time on board will help potential clients imagine themselves and all the fun they will enjoy on board.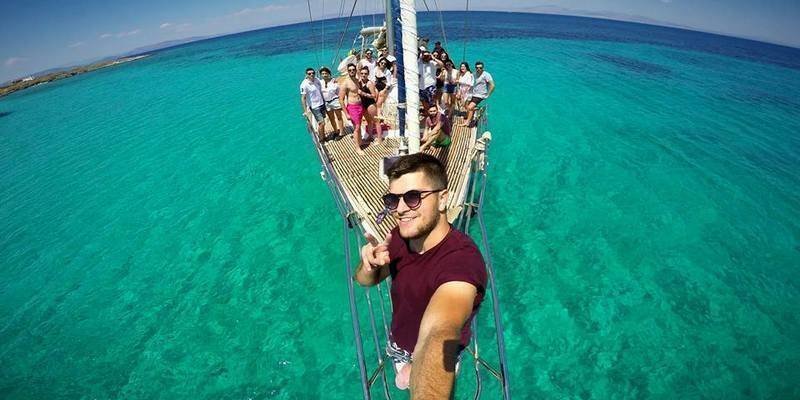 Atlantic Freedom, Athens (sailing boat)

If it's perfect for a couple – a picture with a couple will do the trick. No need for many, after all people want to see what you offer on board, but one photo with your target audience will help enticing the client and prompting their imagination.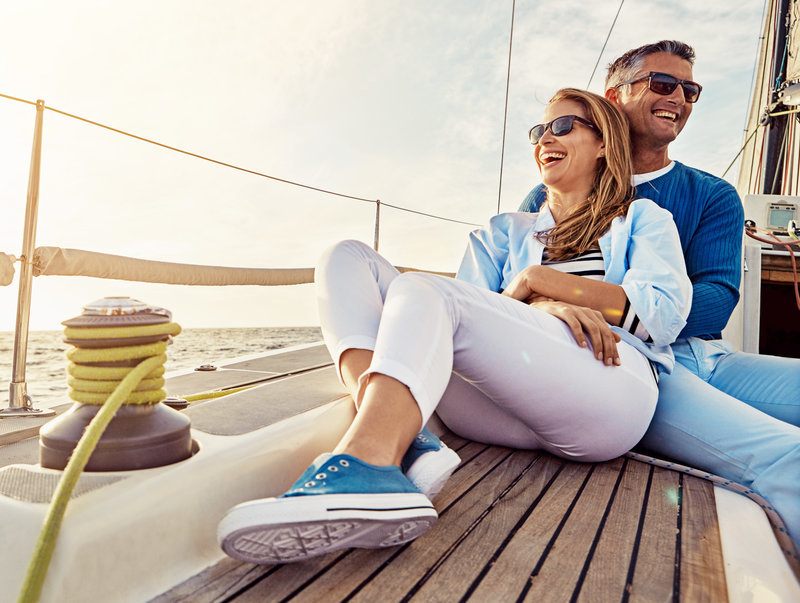 Description

A well drafted description will help you tell the story. Who doesn't like a good story? It doesn't need to be long, a few sentences will work well.
Showcase what the boat is perfect for – if it's a crewed sailing yacht for a weekly cruise, make sure you highlight that. If it's a catamaran and it's wide and spacious, it may be perfect for a group of friends. Motor Yacht? Speed, performance and all the fun elements that go with it.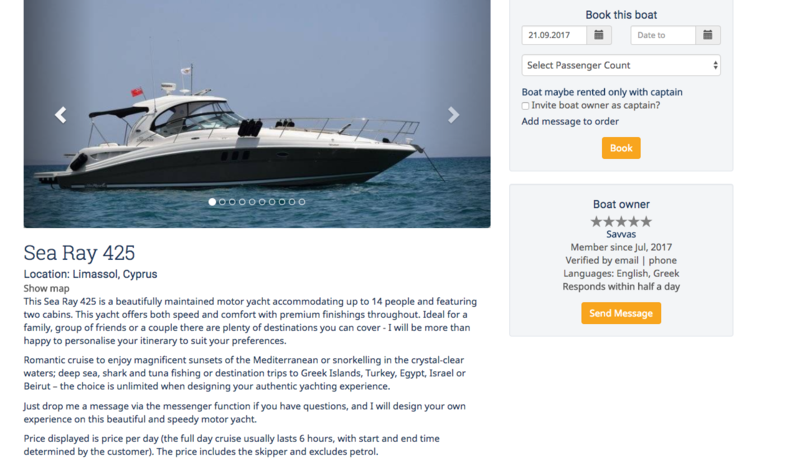 Tell your audience! If you have any additional extras (like a skipper, do let the client know together with the price). Do you know an authentic little beach to visit or a special local restaurant? Just add to the description, that you are happy to offer some local authentic insights.

Price

The pricing should be transparent. If you offer your boat with a skipper only, it is not advised to show the price for "bareboat only". If the price section appears misleading, the client is likely to feel slightly cheated when his booking shows a much higher price, then advertised on the listing.
Of course, there can be many variable elements to the price. If you have compulsory extras such as end cleaning, just add that to the description. As long as it's a reasonable difference people will not mind. If the pricing is not transparent, however, it is likely to discourage people to proceed to confirm the booking.

With Boataffair, when you receive a booking, you have the option to send a message to the client and we encourage you to use that. This will help to discuss any additional costs, conditions and it enables you to remain open and transparent.
Insurance

Always add a sentence about the insurance status. Tell your audience that you have insurance and what it covers! If a renter is advised to have additional insurance (i.e. depending on the number of guests), it is good to be open about it. It helps to foster trust and avoid any future problems on the day.

Boat owner information

Spend an additional few minutes to work on your personal information section in your personal dashboard. Make sure to choose your appropriate response times (you can choose from four options) and keep to it. Why do we believe that? Managing clients' expectations is important. If they see that the response time is 1 hour and you only respond after 24 hours, there is a high chance the client will look for a different boat.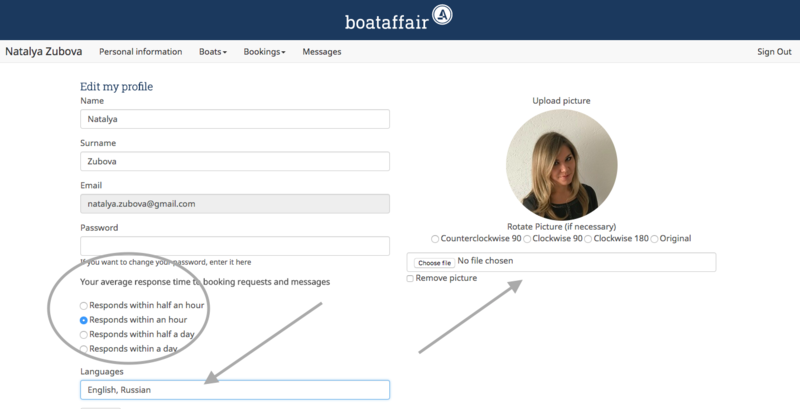 Your photo and personal description.
We strongly encourage you to upload your photo and write a couple of sentences about yourself. When potential clients land on your boat listing page, they have a widget with some basic boat owner information. If there is more information, people tend to have more trust and are more willing to send in a booking request or send you a message. They will feel they know a little more about you with the information and the photo.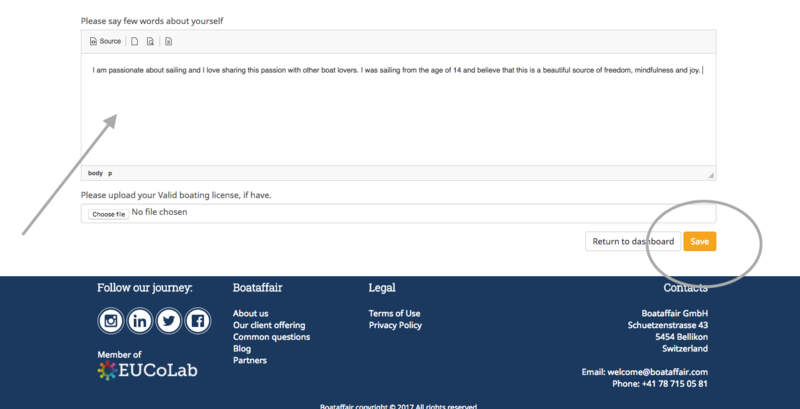 You can, in turn, ask some questions via messenger and when you receive the booking request you will see the boat renter widget. Trust is very important online and these small steps help to create more trust between the parties.
Languages: List the languages you speak, it can be a huge advantage and ice breaker. People will be more willing to send a message in the language they are comfortable speaking and having an option is always a big plus.
On the day
So, you have accepted the booking request, details have been finalised and it's the day, when your renters arrive. First thing they will look for – does the boat look like it was advertised on the pictures?
First impressions count. The boat should be in the condition it was shown on the listing. If the client gets disappointed from the first look, it will set the mood for the day accordingly. Once again, honesty and transparency are key. So, make sure you have attractive and good quality photos, but they really show your boat and not your boat few years back.
We will do another detailed post about how to make sure people enjoy time on board your yacht in our next post.
Benefits of Boataffair – why choose us and how we are different

We wanted to conclude this part of our boat owners guide with few simple thoughts.
| At Boataffair we do not aggregate boats.
We work with boat owners, we want to understand their pain points.
We listen to our boat owners.
| We do not buy boats from a booking software, we want to know who stands behind the boats we list on our platform.
We are a boutique platform – we focus on quality and not quantity. Quality of listings, quality of boat owners, quality of renters, quality of service.
As a boat owner, we do not want your boat listing to be lost amongst hundreds of boats from a big charter company. We want your listing to be showcased in its best light, we want quality owners to meet quality boat renters.
We are a young company and we are building a trusted community, and people and their stories are the most important factor. We do not strive to have the maximum amount of listings in as many countries as possible.

| Our focus is to deliver quality and value through genuine relationships.
Join us today www.boataffair.com
Part one of our Boat Owners guide can be found here – how to kick off registration and listing process, it only takes 10 minutes from start to finish.
We are always open and happy to hear your comments, suggestions or simply thoughts, so do email us on welcome@boataffair.com and we would love to start the conversation