In August 2017, a private boat owner based near Lucerne in Switzerland had come across Boataffair online. He didn't know that it is possible to advertise motor boat rental via an online marketplace. Needless to say, he liked the idea. By listing his motor boat rental (for free) on the Boataffair platform he can earn some money. This can help towards his annual maintenance costs associated with owning his much-loved asset.
We are very grateful to both boat owner and the rental party for sharing some pictures and videos of their motor boat rental with us. We have created a short video with the material we were provided with - a picture can truly be worth a thousand words.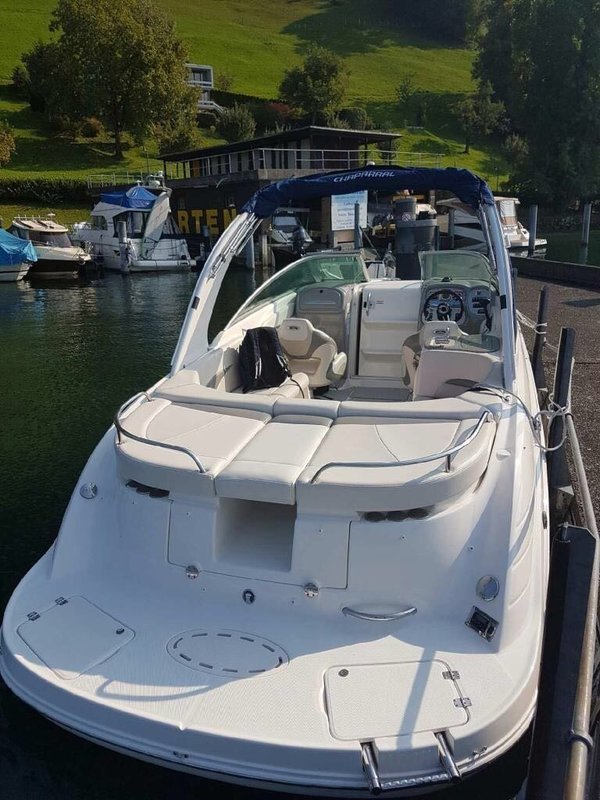 Motor boat rental booking requests started arriving within 2 weeks!
A couple of weeks after listing his motor boat rental, boat owner Christian got his first booking request. On a Sunday afternoon he met his first ever renters in the harbour where his boat is berthed. We loved to hear that Christian took the renting of his boat very seriously. Despite his boat being in an excellent condition he added new carpets and made sure the boat is pristine prior to the rental. This was noted to us by the renters.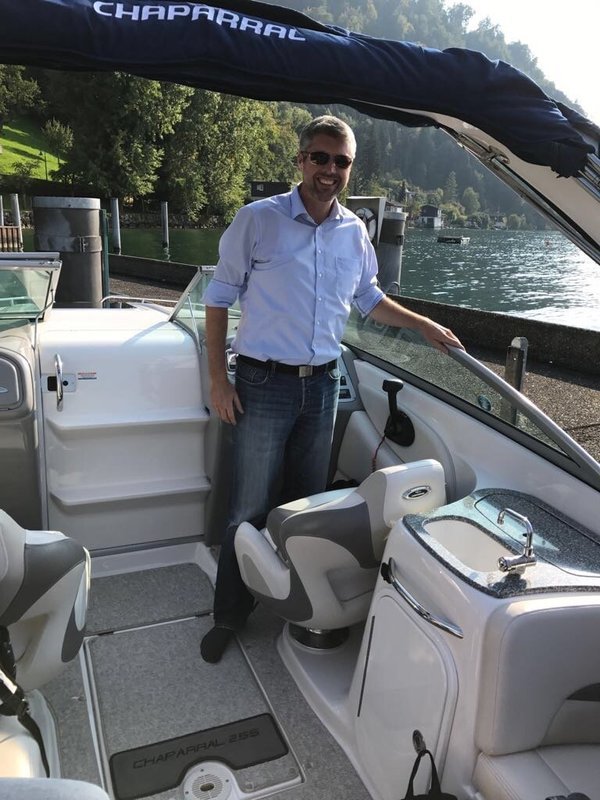 The renters benefitted from the boat owner's local knowledge
The boat renters, a Swiss based couple and their guest from London, were very impressed from the start with the quality of the boat and how warm Christian was in welcoming them.
Christian had a few routes in mind to showcase the most beautiful places on the Lake of Lucerne. He told boat renters his suggestions and asked if there are any specific places they wanted to visit during the trip.
Being a passionate boater since 2010, Christian has explored the Lake of Lucerne and knows many hidden gems of places, which he was eager to share with the renters. These are the places you will never read about in any guide book. There are restaurants on the lake you can only reach by boat, making it a truly unique and authentic experience.
This is a great example, of how a host (boat owner) created a personalised and authentic experience simply by sharing the knowledge he already has.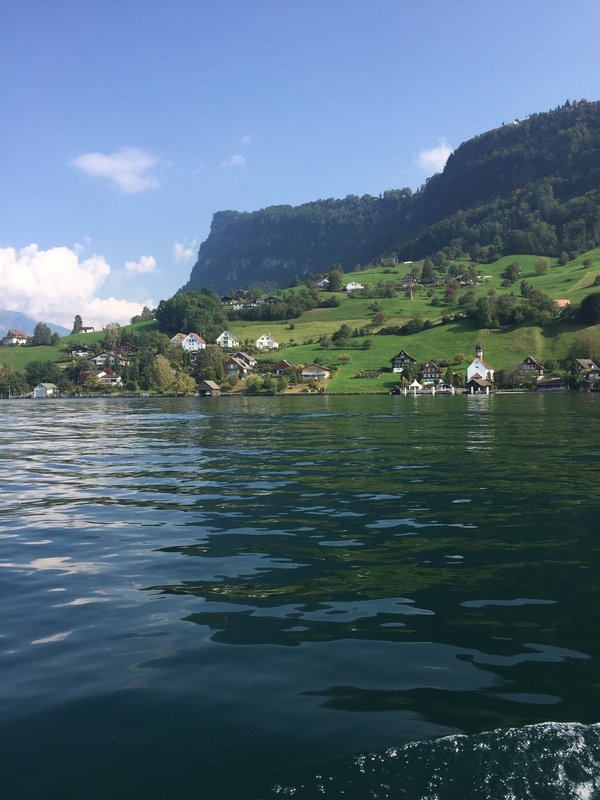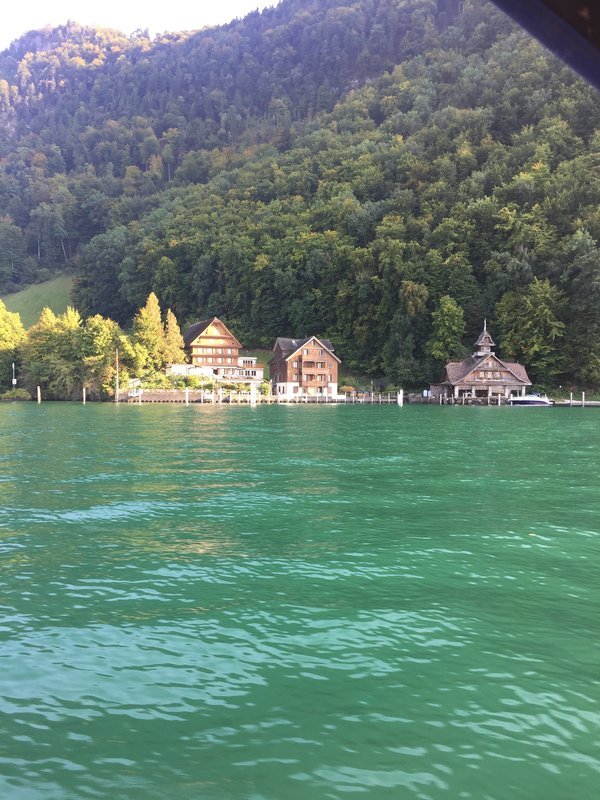 The Chaparral 255 motor boat was perfect for a Sunday cruise on Lake Lucerne
The motor boat – powerful, elegant and comfortable – was perfect for a cruise on the sunny Sunday. Going fast on the open lake with the warm wind blowing and the boat cutting through the flat waters was fun and adventurous.
Once they reached some picturesque sites like well-known Swiss mountain Pilatus, they slowed down and went at a comfortable cruising speed to take in the sights and take many stunning pictures.
Christian acted as a guide and was generous in explaining all the places they were passing. When they approached the city of Lucerne the boat party was offered a stunning view of the city from the water. This creates a completely different feel of the city and allows some breath-taking views.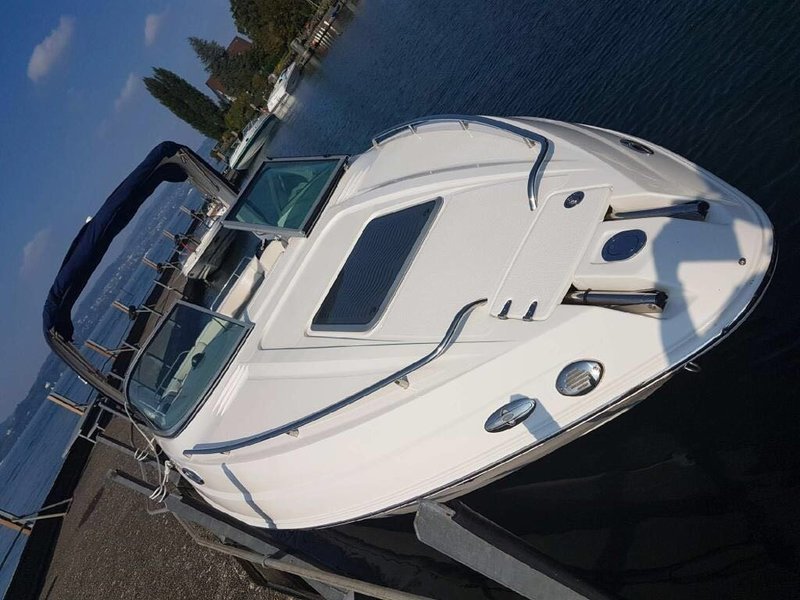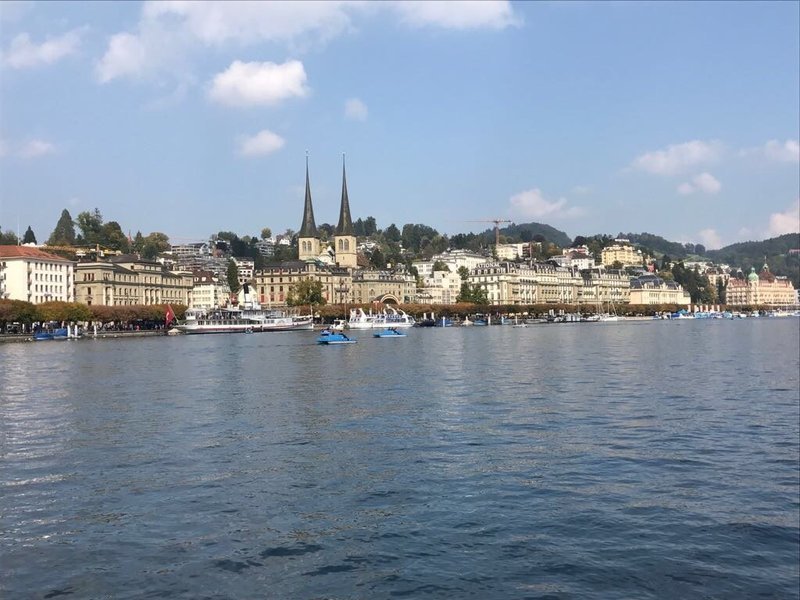 There were many others boats out – from stylish sailing yachts with the sails blowing in the wind to powerful motor yachts with people just taking pleasure in boating. The lake of Lucerne is very popular for boating enthusiasts, so it is not surprising that people wanted to enjoy some good weather before winter begins.
At lunch time, the party went to one of the restaurants recommended by Christian. The only way to reach that unique place was by boat. No cars, no cruise ships go there. The Swiss couple, despite having spent many years in Switzerland did not know that places like that existed around the lake of Lucerne. Showing just once more, that even if you are local, there is a lot to be seen and explored by boat.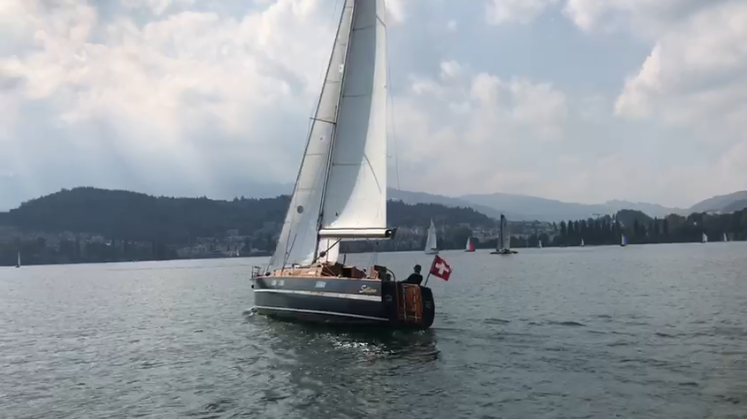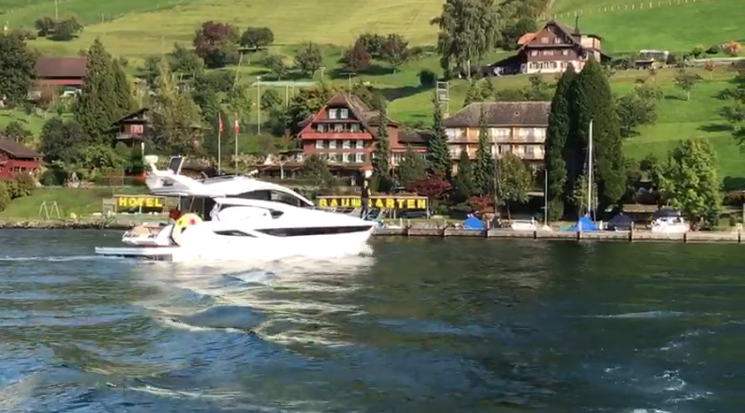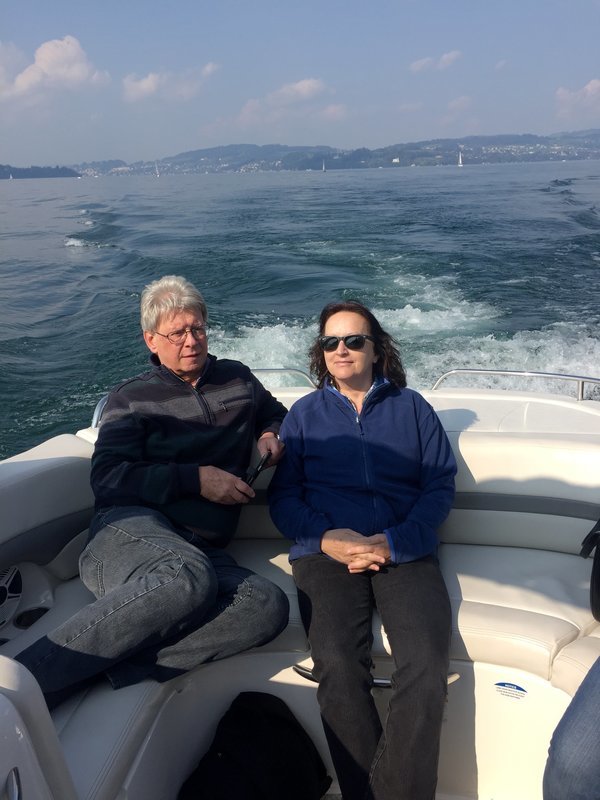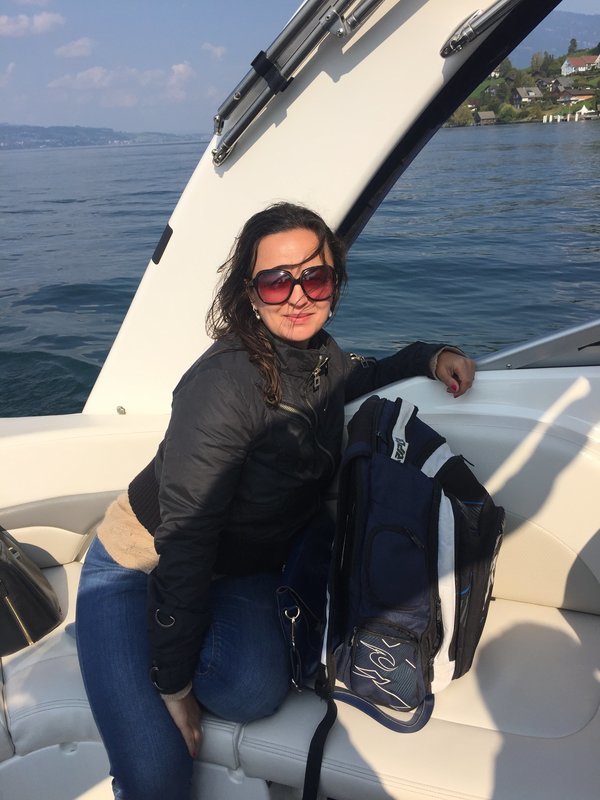 The rental party was thoroughly impressed with the whole experience. One of the guests, Ekaterina wrote after the rental:
"We rented the boat from the owner with a few friends. Let me start with saying that the boat is in excellent condition, very clean with brand new carpets, spacious enough to accommodate up to 7 people. Christian had complimentary beer and water on board that he kindly offered to us, which was a nice touch. Christian is a very good host and captain and a guy who knows quite a few hidden places for which you cannot find any information in any guidebook. He showed us a restaurant which one can reach only by boat, the Swiss food we had there was delicious. Christian took us around at full speed which was fun and adventurous. We also did some cruising around the most amazing scenery and took loads of memorable pictures. Christian speaks very good English and is an excellent storyteller. We would definitely be back again and strongly recommend this unforgettable experience!"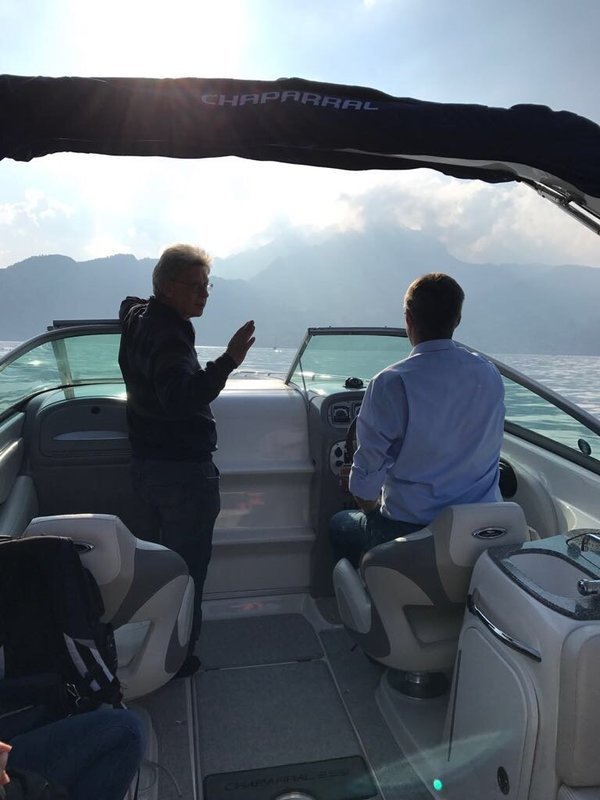 Boat owner Christian was equally happy and posted afterwards:
"Boataffair enabled me to rent out my Chaparral 255 Sportboat on Lake Lucerne. Communication was very easy going and Adrian, the CEO of Boataffair, personally made sure that everything went smooth, from the first contact of a client until the day of the rental. Any issues or concerns, just ask Boataffair. Therefore, I highly can recommend Boataffair, not only to someone looking for a nice day on the lake, but also to other boat owners who are interested in providing their vessel to enthusiasts."
At Boataffair we truly stand for values of quality, trust and authentic experiences. As a young company, it makes us immensely proud, that we have created that experience for both parties. Our motto – matching quality owners and quality renters was truly shown in this experience.
If you are a boat owner and would like to offset some of the annual costs of maintaining the boat – list your boat with Boataffair today. Find out how easy it is to rent your boat in under 10 minutes. The whole process easy takes and best of all - it's completely free!
If you looking for boat rental, simply type in your desired location in our search bar at the top of this page, or use our boat rental search. We have quality boats in Greece, Mallorca, Portugal, Croatia and even Mexico and Cuba (for that perfect winter gateway).
If you can't find what you are looking for, just drop us an email on welcome@boataffair.com, and we will ensure we find you a perfect boat. We take our clients seriously, and we thrive to only offer truly quality experiences for quality people.