Our luxury Catamaran offers comfort, space, safety and many luxuries. A highly experienced crew is there to make you feel at home throughout the entire stay onboard.
Accommodations
6 equal staterooms. All are convertible and can have either a queen double or twin beds.
Water Toys include
4 x Suex diving scooters
8 sets scuba diving equipment w/ Divemaster as permanent member of crew
Zodiac - 30hp
Main port in the winter is Phuket with oparations across Pacific NW, New Zealand, South Pacific, French Polynesia, South East Asia. Please inquire and tell us about your dream destination.
Charter Rates are Plus Expenses.
Age : 39
Nationality : Mauritian
Harry commenced his career in 2001 as an apprentice at the Hilton Resort and Spa, Mauritius, then quickly moved onto senior chef de partie at Lemuria Resort in the Seychelles for 3 years. 2005 took Harry onto the water working for Princess Cruises for 2 years before moving onto sous chef at Relais & Château, Mauritius. Having the taste for travel and wanting to learn more in the world of cuisine, Harry worked in Canada, Maldives, Mozambique to then Head Chef in Italy come 2012 to 2014 developing a technique he could call his own. Harry then stepped on board SV Douce France & following that SV Demoiselles, and now onto BERZINC. Harry uses the fundamental and technical ideas from tropical cuisine blended with flavors from Asia, Africa and Europe, all these are brought together to develop a tasty, light and elegant dish with simple, fresh and use of seasonal products. Cooking technique skills include sous vide.
First Officer
Alexandre D'Acrement
Age : 40
Nationality : French

Alexandre started sailing at the age of 7,
No need to say that he has a lot of experience as a sailor. He has been very active all over the globe to gain more technical experience of different types of vessels. His best experiences were in Thailand, Tarifa and Greece. For the last 10 years he has been working as a captain on passenger ships in Great-Britain during high season. During low season he has been crossing the Atlantic, delivering sailing yachts to their winter destination. In his free time, Alexandre is passionate about windsurfing and drawing.
Age: 58
Nationality: French
JC has been sailing since a young age and becomes captain of sailing cruisers from 18 years old. This passion for the sea and navigation brings him to the rank of unlimited captain and exercises this trade on many kind of vessels: cargo ship, passenger ships, tugboats, large sailing yacht. When these children were small he managed a hotel structure of 200 beds with a big hotel team, he always liked the welcome and the organization of holidays. This magnificent sailboat that is DF can reconcile navigation and high-range hotel in the most beautiful places in the world. He will be delighted to share these exceptional moments in Palau. In these free times he enjoys kite surfing and diving.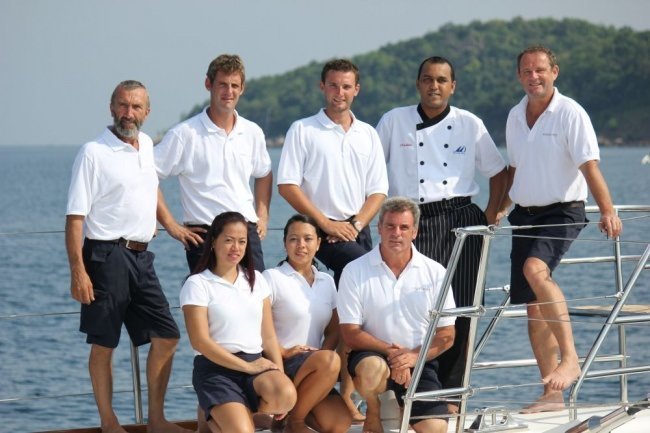 Age : 36
Nationality : Philippines
Timi has been on board DOUCE FRANCE last year and brings a strong background in hospitality, catering and service. Born and educated in Phillippines. Her qualifications include STCW95. She is every day more and more happy to serve on Douce France. Timi is always smiling and in a good mood.