A catamaran is usually the preferred choice by families for space & comfort aboard (as opposed to a monohull sailing yacht, which is usually preferred by couples or sailing enthusiasts for performance).
But let us start with the price point for a hotel suite. We looked at Grand Hotel San Pietro in Sicily and identified the following hotel price package in May: Price for 7 nights goes for 5,170 EUR for a family of four. This includes: accommodation, VAT, breakfast, access to swimming pool.
Now, let us compare this to a Lagoon 400 S2 Catamaran. This type of Catamaran is comfortable, safe and very spacious. Ideal for a family. Starting point: Capo D'Orlando Marina, Sicily 1-week cruise around the Aeolian Islands. This Catamaran can accommodate up to 10 people: 8 guests and 2 crew.
The price for 1-week crewed catamaran charter in May is EUR 5,210. This includes a skipper, accommodation aboard a catamaran and all small extras such as final cleaning and port fees are included. This catamaran has 4 guest cabins with en-suite bathrooms and a large galley as well as outside areas for al fresco dining & sunbathing. Much more space than a suite or 2 rooms in a hotel.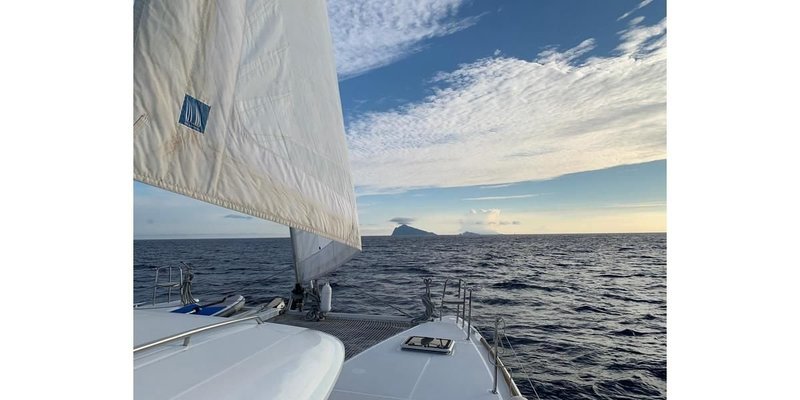 One of the unrivalled benefits a Yacht Charter boasts is the experience aspect of the holiday. At Boataffair, we are proud to offer unique yacht experiences on the water around the globe. For this Lagoon 400 S2 Catamaran we propose the following 7 day cruise (this can be, of course, altered based on the individual clients' wishes) - please click on the following link:
Cruise around the Aelian Islands and Volcano visit
There is plenty to see on this 7 day yacht cruise. You will get to witness authentic Italian experiences, breathtaking views and of course crystal clear waters all around you. A source of unforgettable stories is guaranteed - this skippered catamaran charter off the Coast of Italy ensures this.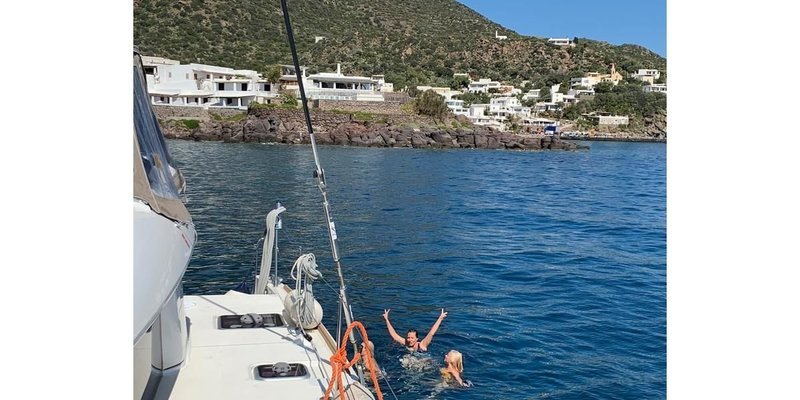 A holiday aboard a catamaran offers the following unrivalled benefits.
A hotel stay means you will do more local sightseeing only. If you factor in the cost of visiting multiple locations (i.e. petrol, car rental costs, transaction costs and time – as you are not visiting aboard the boat), then it won't even be feasible to have a proper rest during the holiday AND see so much.
Island hopping ensures a variety of sightseeing & activities for all family members. Shopping in Lipari, hiking to the active volcano, authentic restaurants and deserted beaches and bays.
Highly educational for kids. See historical sites, learn about volcanos, learn how to sail to a certain extent.
Watersports aboard a catamaran.
Options to sleep on the free anchor and feel totally relaxed and away from everyday noise & tourists.
You get to really bond as a family on a sailing holiday. Away from technology and crowds. In nature. Offline if you want to be.
You get to experience truly authentic Italy, with every island offering their varied local niche cuisine, flavours and influences.
You have full access to the "beach" at any point in time – going for a swim in crystal clear waters is simply jumping off the Catamaran. Easy & oh so pleasurable.
In conclusion, a one-week voyage aboard this Catamaran, will offer more space, more varied and educational experiences, more things to see and to do that are included in the price, more privacy and comfort at a total lower cost.
We look forward to creating your bespoke holiday aboard one of our professionally managed yachts in 60+ locations around the globe. We would love to have a conversation - drop us a line at jessica@boataffair.com and we can't wait to hear from you!