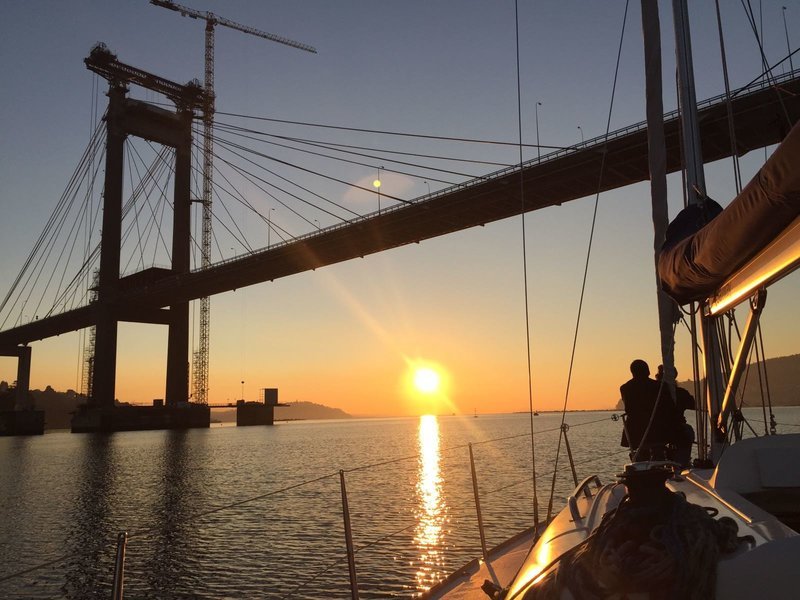 You can choose whether you want to take the sailing yacht out for 2 hours with a captain or simply spend quality time onboard. Also, you can choose whether you want to dine onboard or in one of the best local restaurants. Here are the details for this Romantic Getaway package, which is EUR 250 and it includes the following:
Exclusive sailboat for 2 people with a romantic dinner on board with a bottle of champagne or a romantic dinner in the cozy restaurant La Trastienda del Cuatro. Accommodation on board in a double cabin including fitted sheet, pillow with cover, nordic and hand towel. You will get the access key to the harbour so you can exit to go out for a drink and get to know the Vigo nightlife in the heart of the city.
Price includes: 21% VAT, final cleaning of the boat, fuel (in case you choose to do the 2 hour captained tour, which is optional) and secure occupants.
OPTIONAL: Sailing with a skipper, provided the wind allows it, be the one to decide the direction of navigation and enjoy the sunset of our Ría de Vigo.
Dinner included for 2 people:
You can either have your lovely dinner onboard. Menu on board of the sailboat "TU Y YO": Salad of seasonal selections with selection of cheeses and sauce of nuts and honey, table of Iberian Ham, seafood paella, individual rolls. Dessert: Sweet temptation of chocolate with strawberries. Drinks: Water, soft drinks and a bottle of cava benjamin.
Includes glass cutlery and table linen. If you want a bottle of Ribeiro wine to accompany the dinner on previous request, you have a € 12 plus / bottle.
If you choose to go to the local restaurant "La Trastienda del Cuatro", the menu will be:
Salad of foie gras with figs and brioches, Tempura seafood with its sauces, Ventresca of red tuna with chestnut boletus risotto, Galician red meat taco with chestnut humus.
Dessert: Pina colada ravioli with brown mojito sauce. Bread. Drink (water, soda or glass of wine).