Inha Snorkel & La Bocana tour description. 5 hours.
We cruise out of the Puerto Aventuras Marina and head north for about an hour to the sheltered In Ha reef where calm, crystal clear water offers you a great spot to snorkel with turtles and colorful, tropical fish while your onboard bartender serves snacks, Mexican beer, bottled water, and other refreshments. Or you can ask for a refreshingly cold margarita!
At this point you may opt to enjoy our delicious and freshly made shrimp and fish ceviche* in the flybridge lounge area.
Next, we head south to La Bocana, which is a well protected area with flat and calm where you can swim and snorkel or relax on the yacht as you wish. While you relax, we prepare delicious cheeseburgers on our onboard grill. You can enjoy your meal with beer or specialty drinks prepared by your onboard bartender.
If you enjoy fishing this is the perfect tour for you! Your catch will be prepared onboard with our chef's secret family sauce.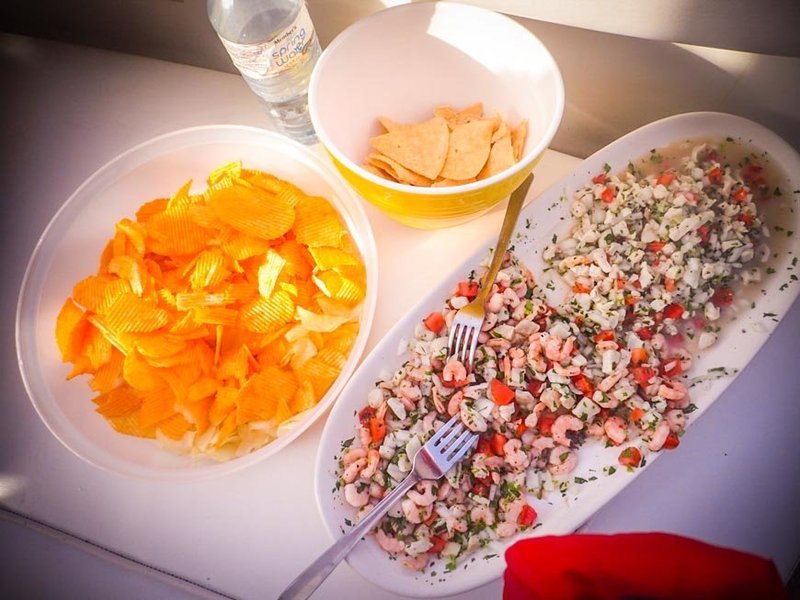 The tour includes open bar with tequila, rum, vodka, Mexican beer, bottled water, soft drinks, and juice. We also serve chips and other snacks. The tour also includes a separate shrimp and fish ceviche and freshly grilled cheeseburgers.
Towels, snorkel, and fishing gear are all included on the tour.
Our open bar includes
We often have people asking us if there is enough alcohol in our Open Bar and we always respond with a clear YES
There is plenty of beer and liquor for even the most thirsty groups.
We also have plenty of bottled water, mineral water and soft drinks for people that do not wish to drink alcohol.